Supercars drivers to live out F1 dreams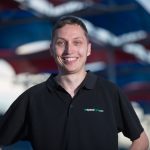 A group of Supercars drivers will play out childhood dreams as they jump behind the wheel of historic Formula 1 machinery at the Adelaide Motorsport Festival.
A collection of nine F1 cars spanning four decades have been assembled to do battle at the Victoria Park sprint circuit, harking back to when the South Australian capital hosted the Australian Grand Prix.
Six-time Bathurst 1000 winner Craig Lowndes, Brad Jones Racing's Tim Slade, Prodrive's Cameron Waters and Dunlop Super2 Series driver Josh Kean are set to star in F1 cars, which will headline the fourth Adelaide Motorsport Festival.
Lowndes and Waters are set to share an ex-Gerhard Berger Benetton BMW, renowned for being one of the sport's most powerful cars, producing 1400 horsepower back in 1986.
Slade will drive a 1994 Footwork Arrows raced by Christian Fittipaldi, while Kean will climb aboard an Arrows driven by Jos Verstappen in 2000.
The quartet will complete timed sessions during Saturday and Sunday on part of the Adelaide Grand Prix circuit, with Ivan Capelli's record 43.28s, set in a Leyton House, the benchmark time.
For Lowndes the run provides an opportunity to re-live his own F1 hopes having reached Formula 3000 in 1997, before returning to touring cars in Australia.
"You do hark back to the past, whenever you sit in it, you can see the front wheels, it is exciting," Lowndes told Speedcafe.com
"To know that this is still the second fastest Formula 1 car in history is quite exciting.
"I hope I can push it a little. The plan is to go out and see what it is all about.
"They tell me it has all the power it had in its glory days. I'm looking forward to putting the power down on pit straight."
Two-time Supercars race winner Slade is eagerly anticipating the chance to experience an F1 car on a race track for the first time.
"It will be great to have a bit of a feel of it around a circuit even if it is a small track here," Slade told Speedcafe.com.
"This is not something you get to do very often if at all.
"I haven't driven it apart from the filming we did in the city (earlier this year) and the last thing you want to do is bin it.
"You are always competitive, I'm not going to putt around but will drive well within its capabilities."
Likely to steal the show is the V10 powered Arrows which has only recently arrived in Australia having been purchased from England by the Kean family.
Josh Kean admits he is nervous but excited by the power at his disposal as he prepares to drive the car in anger for the first time.
"I have had a couple of little squirts in it and it is scary," Kean told Speedcafe.com.
"I'm excited to get out and use it properly. I've driven a few F1 cars but this thing is next level.
"I'm a little bit nervous and I normally don't get nervous."
The festival will also see touring car legend John Bowe drive a 1974 March, while 2007 Supercars champion Garth Tander will demonstrate the newly built Super5000 single seater.
Dunlop Super2 Series champion Todd Hazelwood will drive a heavily modified 1200 horsepower Toyota 86 in a special roll race against the Footwork Formula 1 car driven by Slade.
A host of classic touring cars including an ex-Dick Johnson and John Bowe Ford Sierra and a former Tony Longhurst Falcon AU are also set to conduct parade laps.
Formula 1 Cars at the Adelaide Motorsport Festival
2000 Arrows A21
1994 Footwork Arrows FA15
1989 Dallara BMS189
1988 Lola Larrousse LC88
1986 Benetton B186
1980 Williams FW07B
1979 Candy Tyrell 009
1974 Jagermeister March 741
1970 STP March 701