Slade sets new record as F1 cars star at Adelaide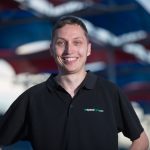 Supercars race winner Tim Slade has reset the Victoria Park sprint lap record behind the wheel of a Formula 1 car at the Adelaide Motorsport Festival.
The Brad Jones Racing driver wrestled a 1994 specification Footwork Arrows around the track to eclipsed the previous benchmark, set by former Ferrari F1 driver Ivan Capelli last year, by 0.2s on Saturday afternoon.
Slade, experiencing F1 machinery on a race track for the first time, banked his 43.03s time in the afternoon timed session on the 1.4km track, alongside an array of historic grand prix cars.
Prodrive Supercars rival Cam Waters was second (44.73) in an ex-Gerhard Berger Benetton BMW, while Paul Faulkner was third in a Williams FW07 raced by 1980 world champion Alan Jones.
"It is cool (to set the new lap record)," Slade told Speedcafe.com.
"It is a shame that I didn't have another session to lower it because the more laps you do the more familiar you get with the car and you can explore the limits.
"I was just out there going round and round and having fun.
"I have driven some pretty cool stuff. It is a ballsy car and I really respect the guys back in the day driving those cars.
"It looks so hard when you watch the onboard vision, and it is hard. It is physical, and you have to be pretty ballsy to go fast on a high speed circuit."
Supercars icon Craig Lowndes also climbed aboard the Benetton B186 for a session on his own as he re-lived his F1 dreams.
The drive presented a rare opportunity to return to his single seater roots having reached Formula 3000, F1's feeder series, in 1997, before returning to Australia to embark on a successful touring car career.
Touted as the second most powerful F1 car in history, the 43-year-old thoroughly enjoyed the experience.
"It was great. It did everything it was expected to do," said Lowndes.
"In comparison to others – to the McLaren I drove in 2011 – it's extremely different. The McLaren was all paddle shift, electronics.
"The Benetton has a heap of grip for the power it's got. They lied about the rev limiter.. it doesn't go to 11, goes to about 10 so I found that a few times.
"It does all the things you want it to, grips, turns. The only thing for us was to learn that you can't use the kerbs at turn one like you can a Supercar."
A total of 14 classes tackled the Victoria Park Sprint including single seaters,  five litre V8 touring cars, sporstcars and bikes.
The latter saw three-time World Superbike champion Troy Bayliss cut laps aboard a Ducati world superbike.
Key categories included Formula Libre for Australia's fastest domestic open-wheelers.
Trent Shirvington (Mygale Formula 3 car) edged out Brenton Ramsey (Birrana Reynard Formula Holden) by just 0.3 seconds, lapping almost as fast as the Formula 1 cars.
Chris Smerdon topped the V8 Touring Cars sessions, in front of a field of cars that a majority of which raced in the Adelaide 500 in the late 1990s and early 2000s.
While the Formula 1 cars were the star attraction, a roll-race between a Formula 1 car and a sedan car also thrilled fans.
Josh Kean, driving the Arrows F1 car that had just set the lap record, took on Super2 Series winner Todd Hazelwood in a Time Attack racer.
The 1350bhp Street FX Toyota WTF86 was due to take part in the race, however it's prodigious power proved too much, the car snapping a drive shaft just before it was due to race.
Its substitute was a 1000hp Nissan GT-R owned by Matt Longhurst.
Accelerating from 30kph, the Formula 1 car proved too strong and edged to victory over 300m in two of the three runs.
The Adelaide Motorsport Festival continues tomorrow.