Supercars 2018 Aus GP race formats confirmed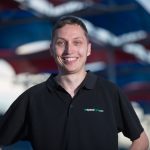 A mixture of sprint and pit stop races will feature at the inaugural Supercars championship round at next year's Australian Formula 1 Grand Prix.
The Australian Grand Prix Corporation has revealed the race formats for the Coates Hire Supercars Melbourne 400 as part of its bumper support bill for the F1 season opener at Albert Park from March 22-25.
Supercars will compete for championship points at the event for the first time after striking a six-year deal with F1 management earlier this year.
Next year the championship will contest four races including two 132km (25 lap) heats, featuring compulsory pit stops for tyres and fuel, alongside two, 69km (13 lap) sprint races.
Two 30 minute practice sessions will be held on Thursday ahead of four 10 minute qualifying sessions to determine the grid for each race held over the opening two days of competition.
The first pit stop race will take place on Friday ahead of a Saturday schedule, which will comprise a sprint and pit stop race.
A final sprint race will be held prior to the F1 race on Sunday with teams to do battle for the inaugural Larry Perkins trophy.
In addition to the revised Supercars format, the Australian Grand Prix will also welcome the one-make Ferrari Challenge Trofeo Pirelli – Asia Pacific series, Porsche Wilson Security Carrera Cup Australia and the Australian GT Championship.
The MSS Security Ultimate Speed Comparison and Historic Parade will also return in 2018.
The line up is set to be the biggest support undercard to feature at the Australian Grand Prix.
"With a bumper line-up of entertaining and competitive racing, it will be an incredibly unique experience for fans as they enjoy the spectacle of these action-packed support categories," said Australian Grand Prix Corporation CEO Andrew Westacott.
"Fans will be spoilt for choice across the four-day event, with an array of on-track action racing for championship points in all categories."
"We are delighted Supercars now enjoys the status as an official support category of Formula 1 here in Australia and internationally," added outgoing Supercars CEO James Warburton.
"To participate fully as a round of our Championship in Melbourne with 400km of racing including pit stops is a huge win for our fans, teams and our drivers.
"We thank and applaud the Australian Grand Prix Corporation and Formula One Management for making this happen for the first time in the 20 years we have featured at the event."
Coates Hire Supercars Melbourne 400 provisional schedule
Thursday
Practice 1: 30 minutes
Practice 2: 30 minutes
Qualifying session 1: 10 minutes (results for grid of Race 1)
Qualifying session 2: 10 minutes (results for grid of Race 2)
Friday
Qualifying session 3: 10 minutes (results for grid of Race 3)
Qualifying session 4: 10 minutes (results for grid of Race 4)
Race 1: 60 minutes (25 laps – 132 km) – compulsory pit stop/tyre change and fuel top
up
Saturday
Race 2: 30 minutes (13 laps – 69 km)
Race 3: 60 minutes (25 laps – 132 km) – compulsory pit stop/tyre change and fuel top
up
Sunday
Race 4: 30 minutes (13 laps – 69 km) – last race before Grand Prix