Kaplan, Bates shine in Shannons Adelaide Rally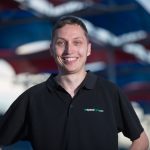 Adam Kaplan starred on the opening day of the Shannons Adelaide Rally after topping the Classic Competition class following the first day of competition in the Adelaide Hills.
Kaplan and co-driver Aleshia Penney built up a 28.6s lead over Matt Selley and Hamish Mckendrick's Hartage BMW, with Oscar Matthews and Darren Masters (Toyota Corolla) in third.
The top five cars in the premier Classic Competition class are covered by less than one minute after 10 competitive tarmac stages.
The morning started with the Stone Hut, Paracombe and Gorge Road stages in the North-Eastern Adelaide Hills, before heading to the Barossa Valley for two runs up the classic Collingrove Hillclimb.
Kaplan charged to an early lead in their Allan Moffat-inspired Mazda RX-7, winning the first three stages of the rally and edging out a 11 second lead over the Simon Gunson/Jurgen Lunsmann Ford Capri by the lunch break at Deviation Road winery.
He then extended his lead by winning SS6 (Millbrook) and SS7 (Kangaroo Creek) to hold a 17 second advantage as the field commenced their run back to Adelaide.
Kaplan swept the final three trials of the day to take his streak to eight of 10 stage wins from a productive day.
In Modern Competition, four-time Australian Rally Champion Neil Bates and co-driver Coral Taylor won the first six straight stages in their ex-ARC Toyota Celica.
However, their margin at the lunch break was just 7.3 seconds over the Ben Calder/Steve Glenney Mitsubishi Lancer Evolution.
The Blaise/Rachel Paris Porsche 964 sat third at the lunch break, just 12 seconds behind Bates.
The leaderboard had a different look after lunch, however, as the Calder/Glenney Mitsubishi upped the pressure: taking the class lead on SS9 (Ironbank) and enforcing it with a win on the final stage of the day (Stirling).
Earlier, the pair had tied on the run up Norton Summit, setting the same time to one tenth of a second.
As a result, Calder's Mitsubishi leads Bates' Toyota by just 6.3 seconds with the Paris/Paris Porsche in third.
In Category S, Nick Streckeisen leads in his Nissan GTR.
The pair are split by just six seconds heading into tomorrow's stages.
Friday's running will see a further eight competitive stages contested, commencing with two blasts around Mallala Motorsport Park in Adelaide's North.
The event is a precursor to the Peak Hour of Power' classic Formula 1 and touring car parade through Adelaide's CBD, which will kick off the Adelaide Motorsport Festival.