Dane: The Bend will be a world class circuit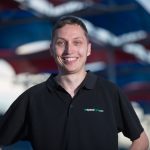 The Bend Motorsport Park will prove to be a world class venue according to Triple Eight boss Roland Dane following a visit to Australia's newest race circuit.
The state-of-the-art $110 million facility currently under construction at Tailem Bend in South Australia is set to open next year, marking the first new major motorsport facility in the country since Queensland Raceway almost two decades ago.
Built to FIA Grade 2 and FIM Category A standard, the 7.7km circuit is gearing up for its maiden season with the laying of the track and infrastructure build at an advanced stage.
The circuit's calendar is quickly building with the highlight being a round of the Supercars Championship, utilising the 4.9km configuration, from August 24-26.
Dane made a visit to the venue early this month as part of a business trip and was impressed by the scale and vision of the project being undertaken by the Peregrine Corporation, headed up by businessman Sam Shahin.
The Triple Eight team owner believes the circuit, once completed, will be an asset to the Australian motorsport landscape.
Circuit owners have already held preliminary talks with international series interested in hosting future events at the venue.
"It's absolutely time somebody did this," Dane told Speedcafe.com.
"There's certainly the scope and it's been built to a standard that will allow a number of different categories to race there. It's impressive from that point of view.
"It's much more complicated than just building somewhere to get other categories to come.
"It becomes a major financial investment in terms of getting other categories to come from overseas.
"But it's a world class venue and plaudits need to be given to everyone; Sam, the South Australian government, or people who are busy making it happen at the moment."
It will be a while before a race car turns a lap of the venue but Dane is convinced that the circuit will be conducive to good racing for all categories.
"I think the track's wide enough, it's got some good corners," Dane added.
"I think it'll lend itself to some good racing and in all categories, not just Supercars.
"It's got plenty of scope, it'll undoubtedly be a great corporate experience for product launches or track days or the like as well. Or just people going club racing.
"To have fresh places to race, and it's not just Supercars that benefit from that, it's the other categories.
"When you've got a new one you've got to understand for us to talk about and enjoy as fans or competitors, it's pretty cool."
The Bend Motorsport Park will kick-off its first motor racing season with the opening round of the Shannons Nationals from April 13-15.
Yesterday it was announced that the Australian Superbike Championship will team up with the Asia Road Racing Championship for an event from April 19-22.
VIDEO: Virtual preview of the The Bend Motorsport Park