Stanaway completes Prodrive's 2018 line-up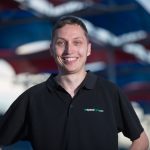 Richie Stanaway will step up to the Virgin Australia Supercars Championship next year following confirmation of a multi-year deal with Prodrive Racing Australia.
The highly rated New Zealander had long been expected to complete the four-car line up at the Ford operation for 2018, having been linked to the drive midway through this season.
Stanaway will take over the operation's fourth Falcon FG X following the retirement of Jason Bright and the arrival of a new Racing Entitlements Contract from Lucas Dumbrell Motorsport. Bright has leased his REC to Matt Stone Racing.
The 26-year-old's opportunity arrives after two impressive stints as a Prodrive co-driver in the Pirtek Enduro Cup, first alongside Chris Pither (Super Black Racing) last year, before joining Cameron Waters this season.
Stanaway helped Prodrive's #6 entry to victory at the Wilson Security Sandown 500 before going on to lead the Supercheap Auto Bathurst 1000 and finish second at the Gold Coast 600.
The Kiwi, who has long dreamed of racing in Supercars, will bring an impressive CV to the series having won races in GP2 (Formula 2), GP3 and the FIA World Endurance Championship.
"Obviously it's good to have everything ready," said Stanaway, who will pilot the #56 entry in 2018.
"It's been coming along for a while, but it's good to finally have the deal done.
"It's been a childhood dream for me to race in Supercars, so it's great to check that off the bucket list."
While set to be one of the most credentialed drivers on the grid, Stanaway admits he has plenty to learn next season as he tackles Supercars' elite for the first time.
"The first objective is always just to get into the series but there's a big difference between participating in the sport and being successful," he added.
"I'm aware that I've got a long road ahead of me and a lot to learn, but I'm really motivated.
"I'm putting my best foot forward, and want to learn as much as I possibly can in my rookie season. I'm expecting it to be tough, that's just a realistic approach.
"It's been so long since I've had a proper full time, long time project to commit myself to.
"It makes a big difference in my mind set, and it's an opportunity I'm really grateful for."
Stanaway will join Mark Winterbottom, Chaz Mostert and Waters at Prodrive to create one of the strongest driver line-ups in the category next year.
"Having Richie join the team really completes the package for us," said Prodrive boss Tim Edwards, who has been aware of Stanaway's talent since the New Zealander's formative years in Australian Formula Ford in 2009.
"We'll head into 2018 with four great drivers in four fast cars, and we believe we'll be a threat to win any time out.
"We've elevated our expectations for next season, and we can't wait to hit the track.
"For as young as he is, he brings more experience and achievements to the table than a lot of veterans, and he's impressed us every time we've put him on track.
"He's proven he deserves a top quality ride in this sport, and I'm glad he'll be racing for us rather than against us."
Stanaway is expected to jump behind the wheel of his FG X for the first time when the series conducts its official pre-season test at Sydney Motorsport Park on February 16.
The announcement leaves Tekno Autosports as the only team yet to officially confirm its plans for next season.
Speedcafe.com expects Jack Le Brocq to be announced as the Gold Coast squad's new recruit this week.