Cauchi: Engineering Whincup's seventh crown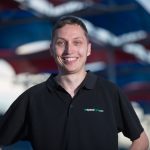 Race engineer David Cauchi has reflected on the challenges faced in helping Jamie Whincup secure an unprecedented seventh Supercars championship.
Whincup ended a title drought this season by winning a hard fought battle with Shell V-Power Racing's Scott McLaughlin to land what he claimed as his greatest championship success yet.
Upon receiving the championship trophy, Whincup was quick to commend the team personnel behind the triumph including race engineer Cauchi.
Winning championships is not something new for Cauchi, who was Whincup's right hand man for his previous success three years ago in 2014.
However, this year's triumph is more rewarding given the challenges both on and away from the track, according to the Triple Eight engineer.
Cauchi has had to juggle the development of the new ZB Commodore, which is due to debut next year, alongside his duties as Whincup's engineer in an epic championship battle against the rising force of Shell V-Power Racing.
He has also been involved in the development of the V6 twin turbo engine, and all of this has unfolded while the Brisbane team reshuffled its engineering department following the departure of Ludo Lacroix to DJR Team Penske.
"This is by far the most rewarding one (title)," Cauchi told Speedcafe.com.
"There were a lot of pretty big projects going on as well as just going racing and competing with some very good competition.
"There is no secret Penske this year really upped their game and their car speed has been exceptional, particularly in qualifying relative to us.
"We have had to make up for that in the races and fight hard and be consistent throughout the year. Jamie has been exceptional by never giving up and fighting to the end and we got the trophy in the end.
"It has been a challenge and there have been times where you get the (working) balance wrong by working too much on the (ZB Commodore) aero project and turn up to a race meeting less prepared than we would like.
"There have been a few races that we have let slip this year, or haven't performed as a good as we would have liked because of that.
"It all takes its toll and there are only so many hours in the day and there was a lot to achieve this year.
"It has been without question one of the most challenging years for me personally on and off the track, but it has been great as well."
Decided by a mere 21 points after a tumultuous Coates Hire Newcastle 500 last weekend, analysis of Whincup's title campaign reveals two key decisions that ultimately proved pivotal.
The 34-year-old avoided retirement throughout the 26 races season with his Triple Eight team managing to maximise situations that could easily have resulted in a DNF.
Bathurst is arguably the most crucial as Whincup and the team battled an engine issue to claim 90 points in 20th position, while rival McLaughlin retired with his own power unit failure.
A similar situation arose last weekend at Newcastle when Whincup sustained heavy damage after a opening lap contact with Michael Caruso and the wall in Saturday's Race 25.
Despite losing several laps in the pits, the team repaired the car allowing #88 Commodore to come home in 21st, accruing 42 valuable points.
It is these moments which Cauchi believes decided the title.
"Sometimes you have to remember every single point from the first race in Adelaide down to the last race in Newcastle is critical," Cauchi added.
"You cannot afford to give away a single point. When things do go wrong you have to maximise the situation when you are fighting for a championship.
"Look, those few little calls are what made the difference and the guys did an exceptional job to repair the car on Saturday as quickly as they did."
While the team has celebrated the success this week, Cauchi is already looking ahead to next year, which he expects will deliver an even tougher challenge as Triple Eight debuts the new ZB Commodore.
"We are going to have to step up again next year because no doubt that car #17 will only be stronger next year," he said.
"We have got a lot of work to do coming in with a new aero package and we have got to do a lot of development to get it right very quickly."