Button commits to Super GT for 2018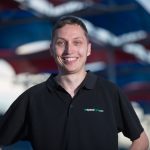 Jenson Button has signed a deal with Honda to contest the Super GT series next year.
The 2009 Formula 1 world champion's plans were announced at the Honda Racing Thanks Days Festival at Motegi, Japan.
It remains unclear exactly which team he will race for and the identity of his co-drivers.
Button has been keen to secure a permanent racing program for 2018 having stepped back from F1 at the end of 2016.
The Brit was recalled by McLaren for this year's Monaco Grand Prix to replace the Indy 500 bound Fernando Alonso, before a maiden Super GT outing with Honda at the prestigious Suzuka 1000km in August.
"I'll be racing for Honda and have a contract to race with Honda in Super GT in 2018," said Button.
"It's been a dream for the last couple of years, I love the category. I did one race in Suzuka this year, and it got me very excited.
"I'm very excited about the new season.
"There's a lot of testing to be done to feel comfortable and hopefully improve the package and go out next year and be competitive."
The 2018 Super GT season begins at Okayama from April 7-9.