Whincup reveals sacrifices behind seventh title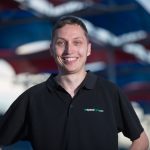 Newly crowned seven-time Supercars champion Jamie Whincup has opened up on the 'massive sacrifices' made on the way to securing this year's title.
Whincup was officially presented with the championship trophy at the annual Supercars Gala Awards night on Monday, where he shed some light on the story behind his success.
The 34-year-old claimed an unprecedented seventh title on Sunday after coming through one of the most dramatic title deciders in the history of the championship at the Coates Hire Newcastle 500.
This season Whincup has had to dig deeper than before having faced a rising challenge from Shell V-Power racing and Scott McLaughlin, and on Sunday labelled the success his best yet.
However all of this has arrived amid challenges both on and away from the track, including splitting from his fiancé and long term partner Courtney Nicholson earlier in the season.
"Massive, massive sacrifices had to be made," said Whincup when receiving the championship trophy on Monday night.
"I would have loved to have walked through the door with a wife tonight, but the reality is it's the silverware or that.
"It's pretty scary. I had to make some big calls at the end of last year.
"We've dug deep, had to stay off the alcohol, that was painful for a few months, but we got the job done.
"It was all or nothing. As I said, it's probably pretty sad, but this sport means everything to me and this trophy means everything to me."
Whincup, who also won the drivers' driver award at the Gala, paid tribute to his Triple Eight team for their work in delivering a seventh title.
"It's quite embarrassing that there's one name on the trophy when it's a massive team sport," he said.
"We've won the engineering battle for many years and won through pure pace, but this year there were some cars that were equally as fast as ours, not faster but equally as good.
"We certainly had to dig deep and I feel like this one is very, very special because we won as team on the day."
Alongside his title triumph, Whincup claimed the record for most race wins in Supercars history, surpassing team-mate Craig Lowndes at Sydney Motorsport Park in August.
Sunday's success took his tally to 108 career race wins.
Following the publication of this story Whincup's ex-fiance has taken to social media to respond to Whincup's speech.
"This is very difficult for me and my family and friends," Nicholson wrote on Instagram.
"Those that know, both in the motorsport industry and outside, know that I was never an obstacle to this man's success.
"Jamie's speech was written in order to make himself feel better about his own fears and actions over the last 12 months.
"To place him on a pedestal and allow him to say he can discard a person like a possession is not ok.
"I am not saying poor me, I will be better off without him … but please don't say poor him. The trophy will keep him warm."