Bright reflects on emotional Supercars finale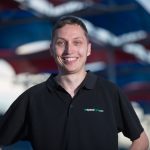 Jason Bright has described the final full-time Supercars race of his career as the most emotional moment he has experienced in a race car.
The 20-year Supercars veteran conducted his 572nd and last full-time Supercars race start in Sunday's final leg of the inaugural Coates Hire Newcastle 500.
It proved to be an eventful last hurrah as Bright found himself involved in a Turn 1 melee on lap 73 that resulted in heavy contact with Scott McLaughlin while fighting inside the top 15.
Bright lost four laps in the pits while his Prodrive squad repaired the car, which had climbed the rear of the #17 Shell V-Power Racing Ford Falcon as the field bottled up after the final Safety Car restart.
The 44-year-old was able to return to reach the chequered flag in 22nd position.
Although emotions ran high at Newcastle, he has no regrets on the decision to step away from full-time driving.
"I'm a pretty emotional guy as it is. I can't say I've ever been that emotional in a race car before, but I'm really happy with my decision, and I'm looking forward to the next chapter of my career," said Bright.
"We had a pretty bad first stint. I copped a bump from Simona (de Silvestro) and wasn't comfortable on those tyres the rest of the stint.
"The first stint was long, but the second stint was strong, and we moved up a bit.
"I was pretty happy with the pace at that point, and the last stint everything was going all right until that restart.
"Everyone bottled up in front of me, cars were running into each other, and I ended up nailing Scott, and luckily we sort of got away with it to an extent.
"We had to come in to repair the front splitter, and from there we just went on to finish the race."
The result saw Bright finish 20th the final championship standings.
It is anticipated that Bright's Racing Entitlements Contract will be operated by Matt Stone Racing next year, who intend to field Dunlop Super2 Series winner Todd Hazelwood.
New Zealander Richie Stanaway is set to take over from Bright in the fourth Prodrive entry next year.
It proved to be a difficult weekend for Prodrive as the Ford squad struggled for pace at the Newcastle circuit.
Chaz Mostert scored a best result of sixth in Saturday's race before finishing 15th on Sunday, after incurring a penalty for crossing the pit exit blend line.
Mark Winterbottom qualified fourth for Sunday's race but finished seventh, while Cameron Waters came home 13th and 23rd respectively in the two races.
"It's not the way we wanted to end 2017, but at the same time we've made big strides over last season and expect to make more progress in the offseason," said Prodrive boss Tim Edwards.
"With a season like we've had a finish like we've had, we're probably looking forward to 2018 as keenly as anyone in the paddock."