POLL: Did McLaughlin's penalty fit the crime?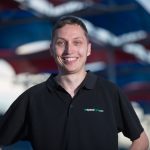 A late race penalty for Scott McLaughlin which ultimately decided the destiny of the Supercars Championship has proved a contentious issue among fans.
Supercars delivered arguably its most dramatic of title deciders at the inaugural Coates Hire Newcastle 500, which resulted in final lap drama when stewards handed title contender McLaughlin a 25 second time penalty.
The Shell V-Power Racing driver clashed with Craig Lowndes on the penultimate lap after making a mistake on the entry to Turn 1.
Lowndes attempted to pass on driver's left but was moved over and into the concrete, breaking the left-front suspension of his Triple Eight Commodore at a join in the wall.
Without brakes on that corner of the car, he spun at the Turn 2 braking zone and backed into the tyre wall, before driving off the race track to record a DNF.
The sanction handed Jamie Whincup an unlikely seventh title after the Red Bull Holden Racing Team driver took victory in a crazy Race 26, while McLaughlin, who only needed to finish 11th to clinch the championship was demoted to 18th position.
To add to the drama, McLaughlin, who fought his way through the field twice after copping a drive through penalty for pit lane speeding and turning around Simona de Silvestro, crossed the finish line in the critical 11th spot.
According to regulations a penalty issued during a race cannot be appealed.
McLaughlin disagreed with the decision claiming he felt he had given Lowndes enough room.
He also believes the incident should have warranted a post-race investigation, while DJR Team Penske team owner Roger Penske labelled the penalty 'outrageous'.
On the opposite side, Triple Eight team boss Roland Dane believes the stewards were right to make the call.
"That was so clear cut and straight-forward, once I'd seen it, it's obvious and the call should be made straight away," said Dane.
"And they (the stewards) were pretty good at making the calls during the race.
"You could argue the one on Simona was a bit worse in that she actually turned around, but whatever.
"It was delivered straight away, they could get on, they could serve it at their pit stop, I think they did a good job on the weekend.
"We weren't always on the right end of the decisions but I thought they did a good job."
Did McLaughlin's penalty fit the crime? Cast your vote in this week's Pirtek Poll.