Dutton hails Triple Eight resolve after hectic year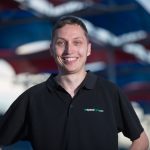 Triple Eight team manager Mark Dutton has paid tribute to his squad's efforts in helping deliver a drivers' title for Jamie Whincup during a busy 2017 campaign.
The powerhouse team has faced a challenging season that has seen the operation do battle for both  the Supercars drivers' and teams' titles against the rising force of DJR Team Penske.
Triple Eight endured one of its worst days in the championship on Saturday after all three drivers Jamie Whincup, Shane van Gisbergen and Craig Lowndes made errors at the Coates Hire Newcastle 500 opener.
The mistakes were capitalised upon by Shell V-Power Racing who scored a one-two to secure the teams' title.
However, the team bounced back on Sunday to deliver a one-two for Whincup and Shane van Gisbergen, which saw the former claim an unlikely seventh title, having faced a 78 point deficit to Scott McLaughlin heading into the final race.
Dutton has since revealed the squad worked into the early hours of Sunday morning preparing its cars and plans for the race, which ultimately proved successful.
"I mean obviously we weren't happy with our own performance on Saturday," said Dutton.
"All three of our cars could have done a better job, as a collective, not signalling anyone out.
"We put our head downs and got to it.
"The crew worked, we got back to the hotel at 1am, so she was a big night.
"Every car had its transaxle out. No-one did one word of complaining, just got on with the job.
"(It was) a true team effort which is then shown by on-track as well obviously the boys are racing as a team."
Whincup's success arrives in year where Triple Eight has faced an increased workload, having been charged to develop the new ZB Commodore Supercar to be introduced next year and the V6 twin turbo engine, which is expected to make its full debut in 2019.
Dutton is immensely proud of his workforce given the extra projects conducted alongside arguably its toughest championship challenge in Supercars to date.
"It is a true credit to the effort everyone put in," added Dutton.
"With the ZB aero and everything going on no-one gave up.
"No one gives up and they put in the extra yards. It's hard work, it is, I'm not going to lie.
"Don't think it's beer and skittles when you work for a racing car team, it's long hours, it's hard work when you don't get the results.
"I know our guys have worked crazy hard. I don't think you could work harder than what our guys did because there's no more hours in the day. It's as simple as that."