Winterbottom edges SVG in Race 26 qualifying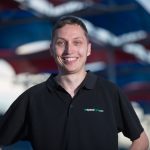 Mark Winterbottom claimed provisional pole position in the final qualifying session of the Supercars season at the Coates Hire Newcastle 500.
Prodrive produced an improved showing after struggling to get to grips with the Newcastle street circuit so far this weekend.
Winterbottom moved to the top of the times with a 1:10.20s effort with a little over five minutes remaining in the session ahead of the Armor All Top 10 Shootout later this afternoon.
The times were much slower than Saturday which is likely down to a change of track conditions after sections of the circuit underwent overnight repairs.
"It's been a tough year, a tough weekend but when the car's underneath you you can do the job, and that's a credit to the team," said Winterbottom.
"We didn't make massive changes overnight but enough to get the car to where it needs to be. I'm happy, I didn't expect that, that was unexpected.
"The track's changed a little bit but the shootout's got to come, but a provisional pole – it's been a tough year so it's a good finish to what's been pretty difficult.
"The resurface has made a big difference because it's like an ice rink when you hit it, so you've got to try and hit it on the right angle. Thankfully I got it pulled off in those corners.
"It's great, they needed to do something, but the rubber hasn't gone down yet to grip it up so hopefully it stays like it is, I actually like the track as it was. A bit different."
Red Bull Holden Racing Team's Shane van Gisbergen was 0.0036s shy of Winterbottom.
"I'm trying to find four thousandths, maybe I should have gone to the toilet," said van Gisbergen.
"The car feels really nice. We did have a good quali car yesterday but it feels good."
Erebus Motorsport's David Reynolds was third fastest ahead of yesterday's race winner and new championship leader Scott McLaughlin.
Three of the four Nissans secured spots in the Top 10 Shootout as Rick Kelly headed the Japanese fleet in fifth, in front of title contender Jamie Whincup and Prodrive's Chaz Mostert.
Michael Caruso secured eighth while Todd Kelly earned a berth in the shootout in his final qualifying session as he prepares to retire from full-time racing after this round.
Kelly was surprised by his Nissan team earlier this morning with a special tribute livery.
"I put a lot of pressure on myself to try and get into the shootout there for the last round," said Todd Kelly.
"It was a bit of a tough start to the session and it was almost bin it or get into the 10 there at the end.
"I gave it everything I had, and just glad I got it in there and thank the guys for all the effort they've given me – not only these guys this weekend but over the last 20 years and since we've had the team. So, yeah, in the shootout, that's unreal."
The top 10 was completed by the #12 Shell V-Power Racing Ford of Fabian Coulthard.
Will Davison narrowly missed out on the all important top 10 in 11th position.
Yesterday's podium finisher Tim Slade will start the final race of the season from 16th one spot ahead of Simona de Silvestro, while Craig Lowndes was mired in 22nd position.
The session was red flagged after five minutes when James Courtney ran wide and found the wall at Turn 6.
The Mobil 1 HSV Racing driver had set the fastest time prior to the incident.
The Armor All Top 10 Shootout is set to begin at 1240 local time.
Results: Virgin Australia Supercars Championship Coates Hire Newcastle 500, Race 26 Qualifying
| | | | | | |
| --- | --- | --- | --- | --- | --- |
| 1 | The Bottle-O Racing Team | Mark Winterbottom | Ford Falcon FG/X | 1:10.2010 | |
| 2 | Red Bull Holden Racing Aust | Shane Van Gisbergen | Holden Commodore VF | 1:10.2046 | 0.0036 |
| 3 | Erebus Penrite Racing | David Reynolds | Holden Commodore VF | 1:10.3276 | 0.1266 |
| 4 | Shell V-Power Racing Team | Scott McLaughlin | Ford Falcon FG/X | 1:10.3715 | 0.1705 |
| 5 | Sengled Racing | Rick Kelly | Nissan Altima | 1:10.4062 | 0.2052 |
| 6 | Red Bull Holden Racing Aust | Jamie Whincup | Holden Commodore VF | 1:10.4330 | 0.2320 |
| 7 | Supercheap Auto Racing | Chaz Mostert | Ford Falcon FG/X | 1:10.4426 | 0.2416 |
| 8 | Nissan Motorsport | Michael Caruso | Nissan Altima | 1:10.5085 | 0.3075 |
| 9 | carsales Racing | Todd Kelly | Nissan Altima | 1:10.5280 | 0.3270 |
| 10 | Shell V-Power Racing Team | Fabian Coulthard | Ford Falcon FG/X | 1:10.5606 | 0.3596 |
| 11 | TEKNO Woodstock Racing | Will Davison | Holden Commodore VF | 1:10.5959 | 0.3949 |
| 12 | Monster Energy Racing | Cameron Waters | Ford Falcon FG/X | 1:10.6333 | 0.4323 |
| 13 | Preston Hire Racing | Lee Holdsworth | Holden Commodore VF | 1:10.6400 | 0.4390 |
| 14 | Wilson Security Racing GRM | James Moffat | Holden Commodore VF | 1:10.6730 | 0.4720 |
| 15 | Timken Racing | Nick Percat | Holden Commodore VF | 1:10.6981 | 0.4971 |
| 16 | Freightliner Racing | Tim Slade | Holden Commodore VF | 1:10.6984 | 0.4974 |
| 17 | Team Harvey Norman | Simona De Silvestro | Nissan Altima | 1:10.8733 | 0.6723 |
| 18 | Mobil 1 HSV Racing | Scott Pye | Holden Commodore VF | 1:10.9716 | 0.7706 |
| 19 | Wilson Security Racing GRM | Garth Tander | Holden Commodore VF | 1:11.0195 | 0.8185 |
| 20 | MEGA Racing | Jason Bright | Ford Falcon FG/X | 1:11.0280 | 0.8270 |
| 21 | Team CoolDrive | Tim Blanchard | Holden Commodore VF | 1:11.0290 | 0.8280 |
| 22 | TeamVortex | Craig Lowndes | Holden Commodore VF | 1:11.0516 | 0.8506 |
| 23 | Erebus GB Galvanizing Racing | Dale Wood | Holden Commodore VF | 1:11.2249 | 1.0239 |
| 24 | Mobil 1 HSV Racing | James Courtney | Holden Commodore VF | 1:11.3645 | 1.1635 |
| 25 | Plus Fitness Racing | Aaren Russell | Holden Commodore VF | 1:11.6392 | 1.4382 |
| 26 | Repair Management Aust Racing | Taz Douglas | Holden Commodore VF | 1:11.6512 | 1.4502 |
Top 10 provisional; Shootout later today