Whincup: Seventh title my greatest yet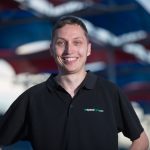 Jamie Whincup has declared his seventh title triumph as the greatest of his Supercars successes after overcoming Scott McLaughlin in a hard fought campaign that was decided by a chaotic Newcastle finale.
The Red Bull Holden Racing Team driver snatched the championship by winning a crazy final race of the season that saw the title battle seesaw between himself and McLaughlin on the streets of Newcastle.
The race win was only Whincup's fourth of the season compared to McLaughlin's eight having been forced to dig deep to stay in the title hunt against a rapid Kiwi and the rising Shell V-Power Racing force.
Given the circumstances of his latest success, the 34-year-old, admits this is his best championship yet.
Whincup scored his maiden crown in 2008 for Triple Eight before going on to claim the championship in 2009, 2011, 2012, 2013 and 2014 ahead of today's success.
"I hate comparing them but you'd have to say this one's the greatest," said Whincup.
"It's been an unbelievable battle with some unbelievably good competition, and for it to come down to the last lap, or the dying moments, or the last 10 seconds of the year, this one's right up there.
"The car hasn't been the quickest all year but we can do everything we can to improve our speed for next year and come out firing, but at the end of the day (I'm) not getting any younger, so I'll grab this one."
Whincup admitted he wasn't sure if he had secured the championship when he crossed the finish line due to the crazy nature of final laps.
He entered the race facing a 78 point deficit to McLaughlin and needing a miracle after an opening lap clash on Saturday severely dented his title hopes.
The destiny of the championship was only settled in the dying moments of 95 lap encounter after McLaughlin was handed a penalty on the final lap for causing a crash with Craig Lowndes on the previous tour.
"I thought I was second (in the championship) and I asked the guys and girls, 'What's going on? Fill me in,' and then I just heard screaming down the radio so I thought, 'This is looking good, this is a good sign.'
"Then Dutto (team manager Mark Dutton) came on and said, 'Yeah mate, you got it.' Unbelievable," he added.
"What a day, for not only us but for motorsport in general, that was unbelievable.
"I thought we were pretty hard done by yesterday with just a little bit of contact to blow a tyre out, I thought we didn't deserve that but clearly someone's looking down on us today and it all got turned around.
"Massive thanks to obviously my whole team, including my team-mates, they played a significant part in what's number seven."
While confirming he has plenty of years ahead of him, he is treating the triumph as his last title success given the wave of young talent, including McLaughlin, coming through the ranks.
"We dedicate our lives and we make a stupid amount of sacrifices for these moments right now," he said.
"If I'm realistic, this could potentially be the last one so certainly appreciating the moment.
"I'm not retiring but I'm not getting any younger so I'm treating this one like it's the last, that's for sure."