Gutted McLaughlin disagrees with late penalty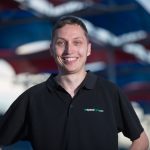 A gutted Scott McLaughlin disagrees with a final lap penalty that ultimately robbed him of a maiden Supercars title in a crazy finish to the Coates Hire Newcastle 500.
McLaughlin appeared set to clinch the championship before a clash with Craig Lowndes on the penultimate lap invoked a 25 second time penalty issued just moments before the chequered flag.
A slow exit from Turn 1 saw Lowndes run alongside the Shell Ford before the pair came together as McLaughlin tried to defend his 11th position which he needed to claim the title.
As a result, Lowndes clouted the wall, losing his left front wheel in the process before spinning out of the race at Turn 2.
McLaughlin crossed the finish line in 11th which was enough to win the crown before being demoted to 18th following the penalty.
Disappointed to see his title hopes evaporate in such dramatic fashion, the 24-year-old believes a post-race investigation would have been a better way to determine such a significant decision.
The team is unable to appeal the sanction.
"Pretty gutted. I was just pushing hard, obviously," said McLaughlin.
"At the end of the day I wasn't going to die wondering.
"I just gave it my all and obviously got the pass into Turn 11 there and then I've made a little mistake at Turn 1.
"I lost my left mirror so I didn't know where Lowndes was and I saw in my rear-view he'd gone left, so I protected that line, I left a bit of room there.
"Then something massive happened because he bounced into me massively and just got caught up.
"I felt like I raced fair and to be taken away like that, I don't agree with it.
"That's their (the stewards') decision but I felt I did everything in my power with what I had around me with regards to no left hand mirror.
"I felt like I left significant (room) it was tight, obviously, but I left a car width just in case he's there. Then to get a thud made it look even worse than it did.
"Look, no driver in our position is going to agree with a penalty.
"It'd be nicer maybe if we could do a post-race investigation and look at points and stuff. But anyway, it is what it is."
McLaughlin incurred two penalties prior to the championship changing incident, the first for speeding in pit lane, before being handed a 15 second time penalty for turning around Nissan Motorsport's Simona de Silvestro on lap 46.
The sanctions left the pole-sitter to fight his way through the pack twice having led the opening 15 laps of the race.
During his recovery the Shell Ford driver was lucky not to incur terminal damage when he clashed with Prodrive's Jason Bright, which resulted in smoke pouring from his left rear.
With his title hopes slipping away, McLaughlin felt he had to push hard in the closing the stages prior to the Lowndes clash.
"I just kept passing people and just hoing that we were getting closer, and Jamie was going further back," he added.
"Obviously when I knew he was leading the race I had to get into it.
"The last restart hurt me the most because I was already hurting, I had right front flatspot and then I was still pacey.
"The contact at Turn 1 really hurt me, so I was fairly bent so just had to soldier on and wait until they went off and when they did I just had to go.
"I'm 24-years-old so hopefully I get a few more chances at this, and I know that I didn't die wondering.
"It'll (the title loss) take a bit to get over but I've got an exciting Christmas coming up."