Spectators injured after V8 Utes crash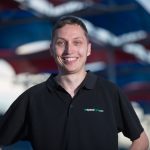 Two spectators are believed to have suffered minor injuries following a crash during a V8 Utes qualifying session at the inaugural Coates Hire Newcastle 500.
Television footage shows debris, understood to have been a tyre, fly over the catch fencing and into the crowd on the run to Turn 10 after contact between Ryal Harris and Matt Griffin.
Supercars has issued a statement confirming that a male and a female were taken to the circuit's medical centre with minor ankle and knee injuries.
It is unclear exactly how the fans sustained the injuries.
The incident was caused when Griffin appeared to slow off line coming out of Turn 9, with Harris on his outside, before the pair then made heavy contact, forcing both utes into the barriers at speed.
As a result of the impact, the left rear of Harris' Ute came adrift.
"Today, at approximately 9am, during qualifying for the V8 Utes Series, two spectators suffered minor injuries when part of a tyre dislodged from a competitor's vehicle," read a statement from Supercars.
"Emergency response teams were on the scene in minutes.
"At this time, exact details are unknown although it is confirmed two spectators, one male and one female, were taken to the trackside medical centre with minor knee and ankle injuries.
"Incidents of this nature are extremely rare.
"The safety of competitors and spectators is paramount, with the circuit certified to the highest global safety standards by the governing body of world motorsport, the Federation Internationale de l'Automobile (FIA), and the Confederation of Australian Motorsport (CAMS).
"Further statements will be issued by Supercars as information comes to hand."
Harris laid the blame at Griffin for the clash.
"I don't know the young Kiwi guy was just up my ass the whole time trying to obviously follow me and then he's let me past, I've gone through down on the straightaway and he obviously hasn't backed off, the wall's come out and then he's just turned into me, said Harris.
"I don't whether I was too close to him or not, I don't know, but I'm on my normal racing line, he should've backed right out and now this is what happened. Brainless young Kiwi idiot."