McLaughlin storms to pole, Whincup fifth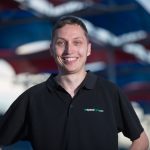 Scott McLaughlin claimed arguably his most important Armor All pole position of the season for the penultimate race of the season at the inaugural Coates Hire Newcastle 500.
The Shell V-Power Racing driver emerged on top from a hotly contested session to secure his 15th pole position of the season.
McLaughlin moved to the top of the times with four minutes of the session remaining after posting a 1:09.90s, which was enough to snatch pole position.
He will share the front row with Erebus Motorsport's David Reynolds, who was only 0.009s shy of the title contender.
"We didn't make it easy for ourselves – it was very difficult out there but that's awesome," said McLaughlin.
"(I've got to) push on now, get a good start to the race and all we can do is go fastest and win, and see what happens behind us.
"This weekend is the most important of the year and obviously to get pole and be in this position is fantastic.
"It's going to be a tough track to pass but there's going to be a lot of strategy and people behind us are going to come as us pretty hard."
Less than a tenth covered the top five which was completed by championship leader Jamie Whincup.
The six-time champion will start behind the second row of Shane van Gisbergen and and Nissan Motorsport's Michael Caruso.
"(I was) just at the wrong end of the closeness, unfortunately," said Whincup, who holds a 30 point lead over McLaughlin in the standings.
"P5 around a track that's tight and twisty and hard to pass, we're going to have our work cut out this afternoon but that's the way it goes.
"I think it should be better as a race car, but it's very difficult to pass. I'm not sure. I'm rapt we're up the front there somewhere to have a crack and see what we can do."
Van Gisbergen was up on the leading sectors on his final run but was forced to back out of it when the low fuel light came on in his Red Bull Holden.
Meanwhile, Nissan Motorsport's Rick Kelly was sixth fastest ahead of Tekno Autosport's Will Davison and Fabian Coulthard (Shell V-Power Racing).
Mobil 1 HSV Racing's James Courtney and Prodrive's Chaz Mostert rounded out the top 10.
Craig Lowndes' struggles continued as he was left languishing in 20th spot.
The penultimate race of the season is due to begin at 1545 local time.
Results: Virgin Australia Supercars Championship Coates Hire Newcastle 500, Race 25 Qualifying
| | | | | | |
| --- | --- | --- | --- | --- | --- |
| 1 | Shell V-Power Racing Team | Scott McLaughlin | Ford Falcon FG/X | 1:09.9065 | |
| 2 | Erebus Penrite Racing | David Reynolds | Holden Commodore VF | 1:09.9163 | 0.0098 |
| 3 | Red Bull Holden Racing Aust | Shane Van Gisbergen | Holden Commodore VF | 1:09.9483 | 0.0418 |
| 4 | Nissan Motorsport | Michael Caruso | Nissan Altima | 1:09.9651 | 0.0586 |
| 5 | Red Bull Holden Racing Aust | Jamie Whincup | Holden Commodore VF | 1:09.9988 | 0.0923 |
| 6 | Sengled Racing | Rick Kelly | Nissan Altima | 1:10.0306 | 0.1241 |
| 7 | TEKNO Woodstock Racing | Will Davison | Holden Commodore VF | 1:10.0485 | 0.1420 |
| 8 | Shell V-Power Racing Team | Fabian Coulthard | Ford Falcon FG/X | 1:10.0839 | 0.1774 |
| 9 | Mobil 1 HSV Racing | James Courtney | Holden Commodore VF | 1:10.2208 | 0.3143 |
| 10 | Supercheap Auto Racing | Chaz Mostert | Ford Falcon FG/X | 1:10.2222 | 0.3157 |
| 11 | The Bottle-O Racing Team | Mark Winterbottom | Ford Falcon FG/X | 1:10.2357 | 0.3292 |
| 12 | Timken Racing | Nick Percat | Holden Commodore VF | 1:10.2764 | 0.3699 |
| 13 | Wilson Security Racing GRM | James Moffat | Holden Commodore VF | 1:10.2778 | 0.3713 |
| 14 | carsales Racing | Todd Kelly | Nissan Altima | 1:10.2900 | 0.3835 |
| 15 | Freightliner Racing | Tim Slade | Holden Commodore VF | 1:10.3398 | 0.4333 |
| 16 | Wilson Security Racing GRM | Garth Tander | Holden Commodore VF | 1:10.3637 | 0.4572 |
| 17 | Mobil 1 HSV Racing | Scott Pye | Holden Commodore VF | 1:10.4097 | 0.5032 |
| 18 | Preston Hire Racing | Lee Holdsworth | Holden Commodore VF | 1:10.4300 | 0.5235 |
| 19 | Monster Energy Racing | Cameron Waters | Ford Falcon FG/X | 1:10.4544 | 0.5479 |
| 20 | TeamVortex | Craig Lowndes | Holden Commodore VF | 1:10.5014 | 0.5949 |
| 21 | Erebus GB Galvanizing Racing | Dale Wood | Holden Commodore VF | 1:10.5039 | 0.5974 |
| 22 | Team Harvey Norman | Simona De Silvestro | Nissan Altima | 1:10.6040 | 0.6975 |
| 23 | Plus Fitness Racing | Aaren Russell | Holden Commodore VF | 1:10.9527 | 1.0462 |
| 24 | Team CoolDrive | Tim Blanchard | Holden Commodore VF | 1:11.0797 | 1.1732 |
| 25 | MEGA Racing | Jason Bright | Ford Falcon FG/X | 1:11.1154 | 1.2089 |
| 26 | Repair Management Aust Racing | Taz Douglas | Holden Commodore VF | 1:11.2466 | 1.3401 |