De Silvestro frustrated to miss career best result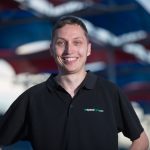 Simona de Silvestro cut a frustrated figure after letting slip what would have been a breakthrough result at the Coates Hire Newcastle 500.
The Nissan Motorsport driver was on course to score a maiden top 10 result having occupied fifth heading into the closing stages of Race 25 following a strong drive.
De Silvestro quickly climbed from 22nd on the grid into the top 10, having elected to wait until lap 2 to pit under the Safety Car, caused by a multi-car crash on the opening lap.
The 29-year-old looked set to better her personal best finish of 13th, achieved at Phillip Island, before her race unravelled in a matter of moments.
De Silvestro found the wall at Turn 12 after running wide at the final corner on lap 78 while fighting over sixth with Tim Slade.
"Unfortunately people didn't really leave space to race, so a bit frustrating a little bit too with what happened, so I guess it ended our day pretty abruptly and pretty frustrating to finish the day like that," said de Silvestro.
"It was good until I don't know how many laps to go but the team made an awesome call on the first stop because we made a lot of track position.
"From there on we were actually really good because we had really good pace."
While frustrated to see a promising run end in 20th position, de Silvestro has taken some positives from racing at the sharp end.
"At the end of the day everybody looks at the result and it's crappy, so I wish we would have finished there (in the position)," she added.
"For sure I think it shows that I haven't forgotten how to drive and (that I'm) getting my head around, too, how to drive with these cars so I think that's a pretty big positive."