Teams braced for crucial Newcastle practice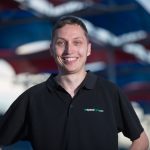 Supercars teams are set for the most important practice day of the season as they christen the brand new Newcastle street circuit.
The circuit, which will host the inaugural Coates Hire Newcastle 500, has been labelled as a high risk track, featuring a combination of significant elevation changes, narrow 90 degree corners and fast sweeping sections.
It is set to be a huge variable in this weekend's title decider as teams and drivers start a fresh with limited data and knowledge ahead of two 40 minute practice sessions.
With the title at stake, whoever adapts quickest to the venue is likely to hold an advantage heading into the two 250km races.
"You will have to guess on the racing line, car set up, and roll out Friday and see if you are anywhere near the mark," championship leader Jamie Whincup told Speedcafe.com.
"If you're not, then you are going to have fight hard all the way."
Title rival Scott McLaughlin, who is 30 points shy of Whincup in the title race, expects the circuit will reward the brave.
"It definitely is (high risk). There are parts of the track where it will really hurt if you do hit the wall," McLaughlin told Speedcafe.com.
"There is not much room for error but it will reward the brave in some ways."
Prodrive team manager Chris O'Toole believes today's action is the most crucial Friday of the season and expects his drivers to use most of the opening practice learning the track.
"It is pretty important. You will have to get on top of your set up quickly otherwise you are going to be way behind, today is going to be very important," O'Toole told Speedcafe.com.
"They (the drivers) will probably do five or 10 laps to figure out their lines and braking markers.
"The first session is really going to be about the drivers maximising their approach."
The circuit build has received approval from both race organisers and teams, although O'Toole says there are a couple of rough edges that have been brought to the attention of race director Tim Schenken.
"I think its ready. There are a couple of little things where the walls don't quite align," he added.
"I've spoken to Tim Schenken about those already but apart from that it looks really good.
"We all came here thinking its was going to be a logistical nightmare, but iEDM (circuit designers) have done a really good job to be fair. The paddock is great and there are no issues."
Opening practice is due to begin at 1210 local time.