Rullo completes successful BTCC test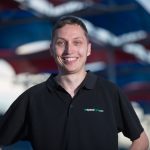 Alex Rullo says a move to the British Touring Car Championship continues to be among his options for next year following a successful test at Brands Hatch.
The Lucas Dumbrell Motorsport refugee joined the Power Maxed Racing squad on Thursday to sample front-wheel drive BTCC machinery for the first time at the famous British circuit.
Rullo has been eyeing a switch to the BTCC ever since he split with LDM prior to the ITM Auckland Super Sprint earlier this month.
The 17-year-old is understood to have enjoyed an impressive outing in the Power Maxed Racing Vauxhall Astra with the team that claimed the Jack Sears Trophy this season.
The Jack Sears Trophy is separate award for rookie drivers in the BTCC field.
"Overall I think the was really successful," Rullo told Speedcafe.com.
"To go to a new track overseas in a new car is a challenge, let alone a BTCC car at Brands Hatch.
"The first half of the day was damp and I got comfortable with the car and track.
"The program we ran through was really good and I think the team and I impressed each other, being only a few tenths behind the factory BMW team.
"It was a lot of fun and well worth the journey, the car certainly exceeded my expectations and the team was very professional and thorough.
"I guess we'll see what opportunities arise for next year, it's definitely on the cards."
Rullo is now returning to Australia and is set to visit the Coates Hire Newcastle 500 on Saturday.