Usain Bolt cuts Porsche laps at Winton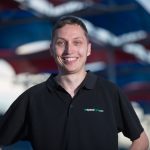 Sporting superstar Usain Bolt swapped the running track for the race track after logging laps in a secret Porsche Carrera Cup car test at Winton.
The retired eight-time Olympic champion joined the 23Red Racing team at the rural Victorian circuit earlier this week.
23Red Racing is a new venture which was officially launched at Newcastle today with the squad taking over from Lucas Dumbrell Motorsport.
The squad will field a Carrera Cup car for former Australian Olympic athlete John Steffensen, who is a close friend of Bolt.
Part of visit to Australia, Jamaican sprint icon Bolt drove a Carrera Cup car raced by new 23Red Racing boss Cameron McConville on Monday.
Steffensen, who took up motorsport this year racing in the Porsche GT3 Cup Challenge, was impressed by Bolt's prowess behind the wheel.
"He did good I think everybody was impressed. It was meant to be a secret but as you know it is hard to keep a secret," Steffensen told Speedcafe.com.
"He (Usain) did really well in the Carrera Cup car and he had fun out there. It is cool when you are an retired athlete and you find another love and passion.
"Usain loves motorsport and cars and we recently saw him at the Formula 1 race in Austin.
"I think it is running through his veins and I wouldn't be surprised if we see him next year in a Cup car in Australia.
"To learn a slick tyre, different tyre, braking and driving the track it is not easy and he did really well. I didn't expect anything less from him to be honest.
"I think he walked away having a newfound respect for the drivers."
Bolt was due to attend the launch of the 23Red racing team today in Newcastle but was forced to cancel plans due to illness.
It is hoped that he will still be a guest at the Coates Hire Newcastle 500 this weekend.
Meanwhile, Steffensen is looking forward to steeping up to Carrera Cup next year.
"It is awesome and it has been a childhood dream so to be able fulfil it is awesome and especially with a new team," he added.
"It helps having a former Supercars driver in Cameron McConville helping me through this year. I love the sport so any time you love something you immerse yourself into it.
"This is not just something I want to do to tick a box. This is sport where I have looked up to these guys all my life.
"To be on the same track as some of these Supercars drivers is pretty awesome."