New Supercars squad launched in Newcastle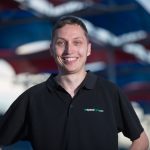 The covers have come off the newest Supercars team with the launch of the new one car 23Red Racing team for 2018.
23Red Racing is a new entity built from the foundations of Lucas Dumbrell Motorsport following a buy in of the Melbourne team by businessman Phil Munday.
As previously reported, the squad has launched its new operation in Newcastle confirming anticipated plans to field a newly purchased Prodrive built Ford Falcon FGX, as it scales back from running two ageing Holden Commodores under the banner of LDM.
It is understood the team will run the FGX which won this year's Sandown 500.
The team, co-owned by Munday and Lucas Dumbrell, is yet to unveil the identity of its driver for next season with an announcement expected on Monday.
The driver is currently under contract at a team until the end of the year.
Speedcafe.com understands Jack Le Brocq and Garry Jacobson were among a group of the candidates for the drive.
"It's an exciting time, I'm looking forward to getting into the 2018 season," said Munday.
"It will be a big change from being a major sponsor to team owner next year and I'm looking forward to bringing a fresh, modern team to the grid."
"I just can't wait for the new season to be honest, working with Phil in the past I know this will be a strong, productive team, " added Dumbrell.
The team, based in new premises in Melbourne, will be managed by former Supercars full-timer Cameron McConville.
"I am honoured to get the opportunity to take this new team into the Championship for next year, we aim to have every aspect executed to ensure we succeed in 2018," said McConville.
The squad also confirmed plans to field a 23Red Racing entry in the Porsche Carrera Cup next year for former Olympic athlete John Steffensen.
Eight-time Olympic champion Usain Bolt was due to assist his close friend and attend the launch but has had to abandon plans through illness.
Steffensen made his racing debut in the Porsche GT3 Cup Challenge this year driving for Zagame Autosport, which was under the management of McConville.