McLaughlin: We haven't got much to lose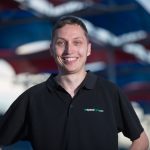 Scott McLaughlin believes the best way to attack this weekend's Coates Hire Newcastle 500 championship decider is to block the title battle from his mind.
The Shell V-Power Racing driver heads to Newcastle in contention to claim a maiden Supercars crown as he trails title rival Jamie Whincup (Red Bull Holden Racing Team) by 30 points with 300 available.
McLaughlin will enter uncharted waters this weekend as the title showdown at the 2.6km Newcastle street circuit represents his first shot at a coveted Supercars crown.
However, the New Zealander has experienced winning a major title previously when he took out the Dunlop Super2 crown in 2012.
With Whincup holding a slender advantage, the 24-year-old says he plans to just focus on his own program and not worry too much about his rival's progress.
McLaughlin has been the form driver this season racking up seven race wins and a staggering 14 pole positions from the 24 races to date.
"I think that (blocking the championship from your mind) is the best way to attack it," McLaughlin told Speeedcafe.com.
"At the end of the day we haven't got much to lose.
"To be in the fight to be honest, it's pretty special in itself.
"You work your whole career to get to a point where you're battling for one of the toughest championships in the world.
"To be battling with Whincup's pretty cool. We've had some ripper battles the last couple years.
"We're coming in as the chaser.
"As a team we want to win the team's championship and that's very important to us but Jamie's leading it and the only thing we can do is go forward.
"I think we'll have the speed but it's just a matter of putting it together.
"I think because we're behind in some ways we've got a positive focus on our own thing.
"It's just a case of try and do the best job you can.
"Obviously the first thing I look at on the board will be where he (Whincup) is, but at the end of the day that's all part of racing for the championship.
"I'm excited just going there; a new track, having a good hard crack at it, put everything behind me and see what goes on."
Like Whincup, McLauhglin says it is not the time to adopt a conservative approach heading into the final round with the title on the line at the unknown Newcastle street circuit.
"It's tough to say, at the end of the day I don't think I'll be conservative at all," he added.
"I think we just keep doing what we're doing and don't change too much we should be okay."
McLaughlin and the rest of the Supercars field will complete their first laps of the Newcastle street circuit on Friday when opening practice begins at 1210 local time.