Whincup primed for Newcastle title attack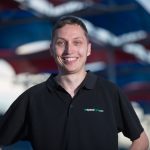 Jamie Whincup says he can ill-afford a measured approach to this weekend's Coates Hire Newcastle 500 Supercars title decider despite holding a slender points advantage.
The Red Bull Holden Racing Team driver is gunning for an unprecedented seventh Supercars crown as the championship visits the Newcastle streets for the first time.
Whincup is set for a likely head-to-head with Shell V-Power Racing's Scott McLaughlin with 30 points separating the pair ahead of this weekend's two 250km races that will complete the season.
While the championship race is tight, adding an extra edge to the drama is the unknown surrounding the newly constructed 2.6km circuit for the entire Supercars field.
Teams have conducted visits to the track but it won't be until Friday when the first laps are logged.
Given the prize at stake, the 34-year-old, who expects the track to pose a real challenge, says he won't be taking a conservative approach to protect his points lead.
"That'd be nice (to be able to be conservative), but you can't afford to do that," Whincup, who is well-versed in closing out championships, told Speedcafe.com.
"It's going to be a challenging circuit and it will bite you if you do get it wrong.
"But at the same time you can't be conservative otherwise you just run second.
"It's all party of the challenge. It's not an easy job. It's difficult.
"We'll just go there and hope we're competing with the rest of the field. We're going to try and do as good a job as anyone.
"It's easier to go 'I'll just enjoy to experience' but it means a lot. It means a lot to everyone involved and for your whole year to swing around the next couple of weeks, it's quite daunting."
Whincup has faced his toughest challenge yet for a title having been pushed hard by McLaughlin and the rising force at DJR Team Penske.
The six-time champion has scored three wins and two pole positions compared to McLaughlin's seven visits to the top step and a record breaking 14 pole positions.
Whincup's title bid has been built on consistency having finished outside of the top six only twice in the 24 races to date.
The Red Bull driver feels he has driven to the best of his ability but has just faced stronger opposition.
"I would have loved to have won more races and had more pole position up until now," he added.
"The reality is we've tried unbelievably hard. I felt like I've done plenty of pole laps and drives good enough to win races in the past, but this year there's been other cars and teams up in front of us.
"All we've done is what we can do and just go as hard as we can and unfortunately it hasn't been as many race wins as we'd have liked."
The Supercars field venture out on the Newcastle street circuit for the first time on Friday when opening practice begins at 1210 local time.