Supercars CEO handover begins at Newcastle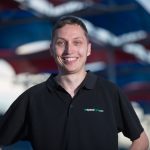 Outgoing Supercars CEO James Warburton will begin the handover process to his successor Sean Seamer at this weekend's Coates Hire Newcastle 500.
Top advertising executive, Seamer, is set to take over from Warburton next year as revealed by Speedcafe.com on Monday.
The MediaCom CEO will attend this weekend's championship finale where he is set to meet the teams and series' corporate sponsors for the first time.
Since being officially confirmed as Supercars' new boss Seamer has spent this week introducing himself to teams via a series of phone calls, as he prepares to lead the Supercars Championship next year.
Seamer, who has worked for MediaCom for the past 15 years, is well known to former Network Ten boss Warburton, having both worked in the media/advertising sector.
Warburton, who is set to leave the Supercars CEO position after four and half years on December 22, is looking forward to assisting Seamer's transition to the sport.
"He (Sean) will be there Saturday and Sunday and I will show him the ropes for 2018," Warburton told Speedcafe.com.
"There is no better way to (begin the) handover than to meet all the major and corporate partners and sponsors.
"He will also be at the Gala dinner and he will meet a lot of our government partners. It is a good opportunity."
While the decision to appoint Seamer was down to Supercars' majority shareholder Archer Capital, it is understood Warburton was a strong supporter of the candidate's bid.
He is confident the new recruit will prove to be a strong leader for the championship.
"I've personally known Sean for a few years and he is one of the most talented guys I've met and he is passionate about the sport," Warburton added.
"I'm absolutely delighted with the choice, which was clearly not mine to make, and I think this is the focus the sport needs.
"It needs to have someone with energy, who is very hands on, passionate about what they do and can lead.
"These are very much the traits I see in Sean and that is what he does for a living.
"I was very outspoken about the qualities that I think the person that took over from me needed.
"He has got a media background which is where I came from and I think that is a really strong thing."
Seamer is due to fly into Newcastle on Saturday in time for the championship's penultimate race of the season.