Todd Kelly retires from full-time racing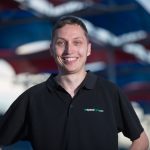 Todd Kelly will retire from full-time racing following this weekend's Coates Hire Newcastle 500 Supercars season finale.
The Nissan Motorsport driver and co-owner has enjoyed a career spanning more than 20 years in the Australian motorsport scene, climbing through the lower ranks to Supercars.
Kelly is set to rack up 541 Supercars race starts at Newcastle this weekend having made his Supercars debut in 1998, following stints in karts, Formula Ford and the Australian Drivers' Championship.
He has since become a stalwart in the category notching up 19 race wins, including the 2005 Bathurst 1000 triumph, and 28 podium finishes, in a career that saw the Melbourne driver race for The Holden Young Lions, K-Mart Racing, The Holden Racing Team, Perkins Engineering, Kelly Racing and Nissan Motorsport.
It remains unclear if the Supercars veteran will continue as a co-driver next season.
Outside of the main game, Kelly has contested the Bathurst 12 Hour for Nissan this year and was victorious in the 2003 Bathurst 24 Hour, driving a Holden Monaro.
"I've decided to hang up the helmet at the end of this season," said Kelly.
"To have a 20-year career doing something you love is pretty special. It's been a long, solid and clean career of being a professional driver.
"And even though I would probably change a few things if I had my time again, there's not anything I regret over that period."
Kelly says a persistent knee injury that has forced him to learn how to left foot brake this season also contributed to the decision.
"I've had knee surgery twice this year, and it's been a decent battle," continued Kelly.
"Although, there have been positives for having a dodgy knee.
"I had gone 20 years without perfecting left foot braking, and at SMP this year I had to left foot brake all weekend.
"By the end of the weekend, I'd gotten pretty good at it. But in such a competitive sport that's not something you want to develop during an event."
In recent years Kelly has been unable to hit the heights of the results achieved in the early part of his career, but he has never lost the passion for racing.
The 38-year-old recorded his best championship finish of fourth in 2005, but has finished outside of the top 10 from 2007 onwards.
"I love driving, and that's what kept me going for 20 years," said Kelly, who is also member of the Supercars Commission.
"I love getting the most out of a car. I love going around a fast corner having the thing sideways at 240km/h. The fear factor has not crept in as I've got older, so I've not lost any of that enjoyment at all."
However, he admits stepping away from racing will be a challenge as he prepares to focus more on running the factory Nissan Motorsport squad.
The family run Kelly Racing team has operated Nissan's Supercars effort since 2013.
"Going to an event and not jumping in the car will take a lot of getting used to," he added.
"I mean, I don't even know where to stand in the garage.
"We've spent a great deal of time getting good people into roles within the team, and I've spent my whole driving life in a car on the other end of the headset.
"So I don't see myself putting the headsets on now taking over other people's roles in the team.
"But I certainly have a keen eye for detail, whether it be from car prep to the engineering of the cars.
"That would be an area I'd like to put a lot of focus in, especially with the driver line up we'll have next year.
"With Simona completing 12 months and progressing extremely well, this would allow me to put a bit more time to oversee how she is going."
Brother and fellow Nissan Motorsport driver Rick Kelly has paid tribute to Todd's career, having followed his footsteps up the racing ladder.
"As a five-year-old looking up to my big brother (then 8) at the Go-kart track in the country town of Mildura, I had no idea of the 20-year tornado that would follow," said Rick Kelly.
"Todd has contributed so much to the sport in the past 20 years that reaches from Team owner, Commission member, driver, teammate, competitor, across to lifetime friendships.
"On behalf of the Team, the pit lane and the fans, I thank Todd for his enormous contribution to the sport as a driver. I'm excited for Todd as he tackles the next adventure beyond driving with the same spirit and dedication that he is known for."
Nissan Motorsport is yet to announce who will replace Kelly in the #7 entry next year.
Hear from Todd Kelly who talks about his racing career and the next phase in his life.
Todd Kelly Supercars Career Statistics 
242 rounds
539 races
19 race wins
6 poles
28 podiums
Career Highlights: 2005 Bathurst 1000 winner 2003 Sandown 500 winner 2003 Bathurst 24 Hour winner