Supercars unmoved by Newcastle residents protest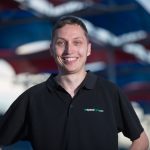 Supercars remains confident this weekend's inaugural Coates Hire Newcastle 500 season finale will be a success despite a protest from residents on the eve of the event.
A small group of residents congregated on the newly constructed 2.6km track at Turn 8 (Scott Street) on Monday night to conduct an impromptu rally against the race, to be held from November 24-26.
According to a Newcastle Herald report, residents chanted songs and chalked peace symbols on the tarmac before Police cleared the protesters from the road to the footpaths.
This latest protest arrives after vandals daubed anti-Supercars messages on the circuit's barriers and a grass area located near the Supercars paddock over the weekend.
The event has faced unrest from a minority of Newcastle residents ever since the championship announced it had signed a five-year deal to host its season finale at the New South Wales city.
However, Supercars officials are confident the event will be a hit judging by tickets sales and the support it has received in the build up to title decider.
Supercars has worked to allay residents' fears throughout the process of constructing the circuit and infrastructure, which began in May.
"We are privy to all the ticket sales numbers and it is the biggest event we have ever seen from a launch point of view and the ticket sales are matching what we expect," outgoing Supercars CEO James Warburton told Speedcafe.com.
"Everyone has the right to protest and have their voice heard and I have said all along that it is our job to do the best thing that we possibly can by the residents affected for the duration of the event.
"We have done that and we continue to do it.
"For people that don't want the event there is not much we can do to help them. It is there for five years and probably longer if it gives everything we believe it will.
"The proof is in the pudding and I think as we stand there on Sunday it will prove to be an economic benefit to the region.
"These types of issues existed at Albert Park, in the early days of Adelaide and the Gold Coast, but it is just a case that no new street circuits have been created really since 2009 (Townsville, Sydney Olympic Park).
"We don't want to gloss over the rights of the people in the precinct."
This weekend the championship is set for dramatic title decider between Jamie Whincup (Red Bull Holden Racing Team) and Scott McLaughlin (Shell V-Power Racing), who are split by only 30 points with 300 available.
"Fingers crossed it goes down to the wire in Sunday's race," added Warburton.
"I couldn't think of a better decider and everyone is really looking forward and the drivers want those bragging rights of winning the first race in Newcastle."
The Coates Hire Newcastle 500 begins on Friday.