Davison: Newcastle may be last full-time start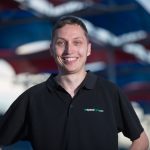 Will Davison has admitted that this weekend's Coates Hire Newcastle 500 could be his last full-time start in the Virgin Australia Supercars Championship.
The 2016 Bathurst winner is out of contract at Tekno Autosports following the Newcastle finale and is yet to secure a new deal for next season.
As the silly season progresses, Davison has limited full-time options remaining with the prospect of a new contract at Tekno thought to be unlikely.
The 35-year-old has been linked to top co-drives for 2018 and is open to racing overseas, but his preference would be to stay full-time in the series.
Facing an uncertain future, Davison, who finished fifth in the standings last year, is aware that this weekend may be his last as a full-time Supercars driver.
The Gold Coast-based driver was the runner-up in the 2009 title race for the Holden Racing Team, before finishing third for then Ford Performance Racing in 2013.
"Mixed feelings as we head into the Grand Finale this weekend," read a note Davison posted on social media.
"Excited to race at a new circuit, but devastated at the thought that this could be my last race.
"Had some time to think over the weekend and although I won't give up, it has dawned on me how uncertain the future really is."
"Didn't think I'd be faced with this situation so early, although proud of what I've achieved.
"I know I have a lot left in me and some real unfinished business.
"I look forward to racing hard on the weekend for myself and all my loyal supporters."
Davison has scored 19 race wins, including two Bathurst 1000s, since making his series debut in 2004, having enjoyed stints at Team Dynamik, Dick Johnson Racing, Holden Racing Team, Ford Performance Racing, Erebus Motorsport and Tekno Autosports.
The Supercars paddock is undergoing a changing of the guard following the news that veterans Jason Bright and Todd Kelly will stand down from full-time commitments in the category.