EXCLUSIVE: Top ad executive to be new Supercars boss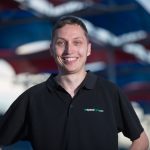 EXCLUSIVE: Leading advertising and media executive Sean Seamer will be announced as the new Chief Executive Officer position at Supercars Australia being vacated by James Warburton.
Seamer is currently CEO of MediaCom Australia, which is one of the country's leading media agencies with more than $1.4 billion in annual billings and more than 350 staff across its Sydney, Melbourne and Brisbane offices.
Headquartered in London, MediaCom is one of the world's largest media agency networks, employing 7000 at 125 offices in 100 countries.
Seamer has been courted by Archer Capital chief Peter Wiggs, who is chairman of the Supercars board and has sole discretion on the replacement of Warburton, who officially finishes on December 22.
Seamer is not expected to take up the role until well into 2018 and only told his staff of his departure this morning.
"I can confirm that, yes, I will be replacing James Warburton at Supercars. We are still working through timing, but expect this to be around the end of Q1, 2018," Seamer told Speedcafe.com exclusively.
"I've very much enjoyed my time here at MediaCom and will miss the team and clients here, but I'm looking forward to immersing myself in the Sport in due course.
"I will be at Newcastle this weekend in an unofficial capacity."
New Zealand-born Seamer is a former amateur Porsche racer and has a passion for road and race cars.
He has been employed by MediaCom since 2002 and has worked for the global giant in San Francisco, London and Singapore before being announced as the head of its Australasian operations in 2015.
Warburton reportedly lost patience with Supercars after negotiations for a pay raise broke down and has since accepted an offer to head up APN Outdoor last month.
Ironically, Seamer has a similar background to Warburton, who had worked at ad agency Universal McCann, and TV networks Seven and Ten before replacing former Fox Sports boss David Malone as Supercars CEO in mid-2013.
Seamer will have his work cut out for him, with Supercars management in a state of change.
Supercars Managing Director Matt Braid will also leave his role at the end of the season, while Steve Horne only remains as chairman of the Supercars Commission until a replacement is found.
It has been announced that Nathan Prendergast will replace Simon Fordham as head of Supercars TV at the end of the season and a Commercial Sales Manager position continues to be advertised.
Seamer would be relying heavily on Supercars stalwarts including chief operating officer Shane Howard, technical boss David Stuart and senior marketing executive and Bathurst 12 Hour boss John Casey, who is understood not to have been interested in the CEO role.
Supercars was valued at about $300 million when Archer Capital, one of the country's leading private equity managers, took a 60 per cent stake for around $180 million in 2011.
Archer shelved sale plans earlier this year after a buyer could not be found, despite a heavily rumoured discounted price of $80 million.
Seamer will be the seventh CEO at Supercars since its establishment in 1997 and the sixth in nine years.
Garry Craft was founding CEO from 1997-99 before Wayne Cattach was moved into the role, which he held for nine years.
The position became somewhat of a poisoned chalice following Cattach's retirement, with no less than four CEOs appointed in five years – Cameron Levick (2008-2009), Martin Whitaker (2010-2011), David Malone (2011-2013) and Warburton. Shane Howard and Tony Cochrane also acted as interim CEO at different stages.
Seamer attended Kentigern College in Auckland before progressing to the Auckland University of Technology.
The Kiwi has played a major role in turning around the local MediaCom operations and is a finalist for The CEO Magazine's 2017 Media Executive Of The Year Award.