Supercars welcomes Seamer to CEO role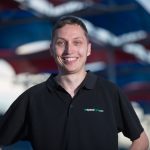 Supercars has officially confirmed top advertising executive Sean Seamer as the championship's new CEO, as exclusively revealed by Speedcafe.com this morning.
The MediaCom Australia CEO was selected from a list of high profile business and sporting leaders according to Supercars.
As previously reported, Seamer, who has worked for MediaCom for the past 15 years, will take over from outgoing Supercars boss James Warburton at a yet to be confirmed date next year.
Warburton will officially leave his position on December 22 as he prepares to become CEO at advertising firm APN Outdoor.
Seamer was appointed by Supercars' majority stake holder Archer Capital and will become the championship's seventh CEO.
"As an incredibly talented young businessman, Sean brings many great qualities which will allow him to build seamlessly on the foundation built by James and the management team," said Supercars Board Chairman, Archer Capital's Peter Wiggs.
"As importantly, he has a passion for and deep understanding of the sport."
Supercars Board Member, and Prodrive Racing Australia team principal, Rod Nash believes Seamer is the ideal candidate for the role.
"Sean is an outstanding leader with a proven track record in guiding businesses to further growth, he is genuinely passionate about our sport and we are very pleased he will continue the momentum built in recent years,"said Nash.
Seamer will visit this weekend's Coates Hire Newcastle 500 Supercars season finale.