Douglas returns to LDM for Newcastle finale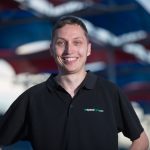 Taz Douglas is set to contest this weekend's Coates Hire Newcastle 500 for Lucas Dumbrell Motorsport.
The team has confirmed to Speedcafe.com that the 33-year-old will drive the #62 car in place of Jack Perkins, who was expected to see out the final two rounds of the season.
Perkins was drafted in to replace regular driver Alex Rullo prior to the ITM Auckland Super Sprint after the teenager split with the team.
However, Douglas has been brought back into the fold for this weekend's inaugural Newcastle 500 on the newly constructed 2.6km circuit.
Perkins is unable to drive due to his Dunlop Super2 commitments, with regulations also stipulating second tier drivers are forbidden from racing in the main game at the same event outside of the enduros.
The Supercars rulebook says: "A5.8.3 No Driver can compete in the VCS and DVS at the same Event, unless at an Enduro Cup Event, nominated as the VCS co-Driver."
This means Douglas will make his first Supercars solo event start since Winton in May.
Douglas has driven the team's sister #3 Commodore at Adelaide, Symmons Plains, Phillip Island and Winton, before taking up the co-driver role in the car for the Pirtek Enduro Cup.
The car will be driven by local Aaren Russell this weekend.
Newcastle is set to be the operation's final weekend running Holden machinery, with a move to Ford expected for a rebranded LDM outfit next year.
The new look LDM team is set to be launched on Thursday in Newcastle.