Molly Taylor's ARC title defence heartbreak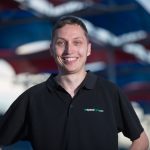 Molly Taylor says it was 'heartbreaking' to witness her Australian Rally Championship title defence go up in smoke at Kennards Hire Rally Australia.
The 29-year-old only needed to finish on the podium in the final event of the year to secure back-to-back titles after claiming an historic maiden crown in the series last year.
Taylor was on course to repeat the feat until Saturday afternoon when her Subaru WRX developed an engine issue while lying second in the ARC.
She was unable to contest the Super Special stages in the evening while the factory Subaru team worked on repairs.
Taylor returned briefly on Sunday before the problem saw the car return to service park, effectively handing Nathan Quinn a maiden title.
"It's heartbreaking, there's no way around that. everything was going to plan but it's motorsport and it always picks the worst time to break your heart," said Taylor, who took a 30 point lead into the event.
"We tried absolutely everything last night; worked to last minute and knew it was a long shot to get stages in (on Sunday) but we gave it our best crack."
"I thought at least we could creep through and were in position where we could've crept through and kept our position
"But then as we started driving to the refuel everything went from bad to worse and it was apparent it wasn't going any further."
It proved to be a stark contrast to 12 months ago when Taylor scored an dramatic title win on the final day of Rally Australia.
This year the Subaru driver has enjoyed arguably a much stronger season compared to last year but has come up short.
"Back-to-back would've been the dream and this year we've been competitive, apart from first round on the podium at every event. We worked so hard," she added.
"You put literally your whole life into it, not just a disappointing weekend, it's a piece of you."
Taylor hopes to return to the Australian Rally Championship next season, which begins at The Eureka Rally, Victoria from March 3-4.