Emotional Quinn revels in 'fairytale' ARC title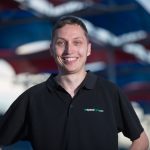 Nathan Quinn has described winning a maiden Australian Rally Championship title in front of his home crowd at Rally Australia as a 'fairytale' moment.
The Coffs Harbour local managed to overcome a 30 point deficit to rival Molly Taylor to claim an emotional title win by taking victory in the final round.
Quinn's hopes of securing the title seemed unlikely with Taylor only needing to finish on the podium to claim back-to-back Australian Rally Championships heading into the event.
On Saturday it appeared Taylor was on course for success before an engine drama struck the Subaru putting her out of the rally.
Taylor's demise proved to be Quinn's gain as he then survived tricky monsoon conditions the final day to bring his ageing Mitsubishi Evo IX to the finish eighth overall and first in the ARC class.
The title success arrives after the 31-year-old had to scrape a budget together to contest the championship this year.
"To pull off something that you might rate as impossible is a good feeling," an emotional Quinn told Speedcafe.com having burst into tears following the news of his title success.
"(The tears) are my way of saying thanks to everybody. We're all volunteers, so it's my way of saying thanks to the people who have put in the countless hours to make it work.
"I actually got a loan, a $1500 loan or whatever it was, off my girlfriend to enter. It was kind of planned out, but I didn't think it would work out.
"We had people through the year reaching into their own pockets helping pay for it. We definitely bit off more than we can chew, and it all worked out for us.
"I said 'if we don't win it this year, we won't ever win it'.
"I guess you could say it's a fairytale. I've always been about driving to make the team proud, to make Mum and Dad proud, and an added bonus is having (Rally Australia) at home so that everyone else can engage with it.
"Lunchtime yesterday I had a massive lead, and I was quite frustrated.
"I said 'we need a miracle to win the championship. I've done everything perfectly. I can't have a more perfect weekend, now I need a miracle to win the championship'.
"It's a shame that it had to happen to Molly like that, but it was the miracle that we needed.
"People were saying 'you have just got to get it home' but that is easier said than done. The rain belted down so it was really hard work.
"For the first time the local knowledge really paid off. It was hard and really tricky. It was definitely one of the most trickiest days for sure."
Wth this season his first full ARC campaign after years of competing in the local rally scene, Quinn says he would like to defend his crown next year.
"I would say leading up to this event winning the championship is a bucket list item," he added.
"We never had the budget to do the championship before
"As for plans for next year I'd like to think that we would get an opportunity to do the championship again but at this stage we have got to assess where we are at."
The 2018 Australian Rally Championship will be contested over six events, beginning at The Eureka Rally, Victoria from March 3-4.