Neuville extends Rally Aus lead into final day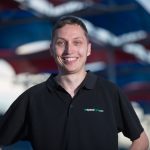 Thierry Neuville holds a clear advantage heading into the final day of Kennards Hire Rally Australia at Coffs Harbour.
The Hyundai driver will take a 20.1s lead over Toyota's Jari-Matti Latvala into the final leg following two runs through the Destination New South Wales Super Special stage this evening.
Neuville took another 1.1s out of Latvala during the two runs through the picturesque beachfront stage.
The Belgian tied with Citroen's Craig Breen for the fastest time in the opening run, before finishing second, 0.1s shy of M-Sport's Ott Tanak on the second pass.
However, his day wasn't trouble-free as the i20 driver suffered a gearbox issue and made a mistake on the first run through Newry.
"It's a good feeling to be leading the rally heading into the final day," said Neuville.
"Of course, the event is far from over but I have been very pleased with our approach to today's tricky stages.
"Our pace has been good overall, and we've added more stage wins.
"At the same time, there is a sense of disappointment that we weren't able to have more of a fight with Andreas following his retirement this morning.
"It has not been a completely trouble-free day for us either.
"We made a mistake in the Newry stage, going straight on at a junction, but thankfully we didn't lose too much time.
"Something broke in the gearbox, as a result of us rectifying the error, which required a fix at lunchtime service.
"The afternoon then went more to plan and we could build up a reasonably good gap.
"There is no such thing as a comfortable lead, though, and with the weather still looking like it could play a part, we will have a challenge on our hands on the final morning."
M-Sport's Tanak comfortably holds third position from with Breen fourth and New Zealand's Hayden Paddon in fifth.
"The Australian weather has thrown us a real curveball this year," said Paddon.
"Some stages were like two totally different rallies with some parts wet and others completely dry. It made for a complicated tyre choice with neither compound perfectly suiting the conditions.
"We have been trying a few different things today to try and improve our feeling in the car.
"We found some improvement on the diff mapping for the afternoon, which helped give more confidence and made the driving more natural. We need to continue in this direction tomorrow and secure our top-five position."
Rally Australia concludes on Sunday with crews set to tackle five stages.
Result: Kennards Hire Rally Australia after Stage 16  
| | | | | | |
| --- | --- | --- | --- | --- | --- |
| Position | # | Driver | Time | Diff Prev | Gap |
| 1. | 5 | T. NEUVILLE | 2:05:11.6 | | |
| 2. | 10 | J. LATVALA | 2:05:31.7 | +20.1 | +20.1 |
| 3. | 2 | O. TÄNAK | 2:05:52.2 | +20.5 | +40.6 |
| 4. | 8 | C. BREEN | 2:06:16.8 | +24.6 | +1:05.2 |
| 5. | 4 | H. PADDON | 2:06:32.7 | +15.9 | +1:21.1 |
| 6. | 1 | S. OGIER | 2:06:59.8 | +27.1 | +1:48.2 |
| 7. | 7 | S. LEFEBVRE | 2:08:11.8 | +1:12.0 | +3:00.2 |
| 8. | 3 | E. EVANS | 2:08:36.9 | +25.1 | +3:25.3 |
| 9. | 11 | E. LAPPI | 2:09:31.9 | +55.0 | +4:20.3 |
| 10. | 68 | N. QUINN | 2:22:46.8 | +13:14.9 | +17:35.2 |
| 11. | 61 | R. DALTON | 2:23:29.9 | +43.1 | +18:18.3 |