Taylor keeping ARC title defence hopes in check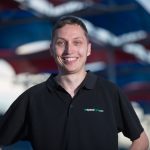 Molly Taylor says maintaining discipline will be key as she goes in search of defending her Australian Rally Championship crown at Kennards Hire Rally Australia.
Reigning champions Taylor and co-driver Bill Hayes head into the Coffs Harbour event holding a 30 point lead over experienced local competitors Nathan Quinn and Ben Searcy.
Taylor appears favourite to take out back-to-back titles a year on from a dramatic finish at Rally Australia that saw the 29-year-old Subaru WRX driver clinch the 2016 crown by two points from Eli Evans.
The only real contender is Coffs Harbour's Quinn, in his Mitsubishi Lancer EVO IX, following the failure of Harry Bates' new Toyota Yaris AP4 on debut in Rally SA.
Bates has chosen to enter the WRC section only, giving him extra freedoms; most notably the change from MRF to Michelin tyres.
Facing the prospect of a second crown, Taylor remains fully focussed on the job ahead and refusing to let distractions creep in.
"I mean, that (the title) would obviously be great but it's still a long rally, and it's a WRC event – it's the toughest event of the season," Taylor told Speedcafe.com.
"It's an interesting situation because the temptation is always to think about the big picture, but I guess we've been working every rally on trying not to think about that and just try and be disciplined.
"It's all about discipline at the end of the day. If you start thinking about that stuff you've got to start thinking about something else and cancel that out of your mind.
"That's the strategy going in and just treating it like any other rally, because what we've been doing this year has been working, so there's no reason to do anything different heading into Coffs Harbour."
Meanwhile,  Quinn and co-driver Searcy will be hoping to continue the momentum from their first ARC round win at Lightforce Rally SA into Rally Australia and will use every bit of home-town crowd support.
"One of the best feelings in the world is driving in front of the people you have grown up with," said Quinn.
"There are pros and cons of (the home town advantage) and I'm sure every driver at a local event goes through the same thing.
"Probably the only real advantage I have is that everyone sitting on the side of the road could be cheering for me, whether I've met them at the pub, went to school with them."
A win will not be enough to hand 31-year-old Quinn the championship, he will need to gain maximum points and hope that other ARC regulars such as Eli Evans, Andrew Penny, Peter Dunn and Lewis Bates can leapfrog Taylor and help him bridge the points gap.
Rally Australia starts today with the 31 cars contesting the ARC class covering eight stages and 113.42 competitive kilometres on day one.