Rullo set for BTCC Vauxhall test at Brands Hatch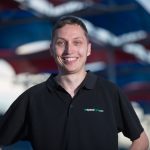 Alex Rullo will join British Touring Car team Power Maxed Racing for a test at Brands Hatch next week as he assesses his options for 2018.
The 17-year-old is considering a move to the popular British saloon car series following a split from Supercars squad Lucas Dumbrell Motorsport prior to the ITM Auckland Super Sprint earlier this month.
Rullo is set to jump behind the wheel of a BTCC Vauxhall Astra at Brands Hatch next Thursday.
"It's a long way to travel for one day, so naturally I wanted to test with a developing top team," said Rullo.
"I have thought long and hard about my options for 2018, the BTCC is an incredible series and could be the way to go for us in 2018, so when we contacted Adam Weaver and then he subsequently offered me the opportunity, naturally I jumped at it."
The test will be the first time Rullo will experience front-wheel drive BTCC machinery having spent the majority of his career racing V8 Supercars in the Kumho Series, Dunlop Super 2, before stepping up to the main game this year.
Power Maxed Racing boss Adam Weaver is eagerly anticipating the opportunity to see how Rullo fares at Brands Hatch.
The team ran BTCC race winner Tom Chilton and rookie Senna Proctor this year, with the latter scooping the Jack Sears Trophy.
"I am really looking forward to meeting with Alex, his manager and his family at the test," said Weaver.
"We're intrigued to see how he gets on in his first outing in a BTCC car, and as people will know, we are gaining a good reputation for bringing young talent to the championship – securing the Jack Sears Trophy twice in three years.
"Maybe we can do it again in 2018."