Rally Aus continues push for multi-year WRC deal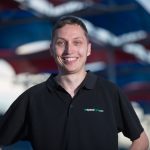 Rally Australia is continuing to push for a long term contract amid increasing competition for its spot on the World Rally Championship calendar.
The Coffs Harbour event has held a spot on the WRC calendar since 2013 but its future beyond 2018 remains in the hands of the promoter and the FIA.
Rally Australia has signed a one-year extension to remain on the schedule next year following the completion of a three-year deal at the end of 2017.
The rally is facing increasing competition from rival countries wishing to join the WRC, with New Zealand and Japan among a  group keen to secure a future berth.
Organisers are fully aware of the threats to its event but have confirmed multi-year deals are at the whim of the WRC and the FIA, who are understood to be moving away from such arrangements.
However, Rally Australia chairman Ben Rainsford believes the round, which has recently struck a three-year funding deal with New South Wales government, is still highly regarded by the sport's power brokers.
"I'd prefer to be doing longer deals, because it means stability with out commercial partners and stability with government. We push hard, but at the moment they (FIA) won't," said Rainsford.
"We were the first event to push into the three-year deals, and we did that for strategic reasons so we didn't have comparison to New Zealand.
"Our event is very different to the New Zealand event. We are a very compliant event in regards to safety and stage security.
"These things also cycle. Their attitude to that might change. The FIA won't change, but the promoter (maybe).
"There are a huge number of events that are falling over themselves to get the WRC – Turkey, Chile, Japan, New Zealand, there's now talk of something coming out of the United Arab Emirates.
"You've got to keep doing it better and better every time or you'll lose your spot and get swallowed."
Rainsford admits that the possible inclusion of a second event in the Asia Pacific region in the future, such as Japan, would be a positive for Rally Australia.
"Japan would be great for us. All of a sudden we'd have another event in the same timezone," he added.
"We'd end up being a bit of a mentor in the early days like we have in the past, and it would probably make a lot of sense."
The first leg of Rally Australia begins today for what is expected to be a crucial series of stages where road position is vital.
Early runners, determined by championship position, will be forced to sweep the roads which will make for quicker conditions for those following in the running oder.
The opening stage Pilbara (9.71km) will begin at 0813 local time.