Mikkelsen leads Neuville heading into Day 2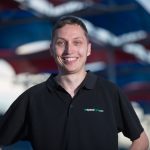 Andreas Mikkelsen will head into the second day of competition at Kennards Hire Rally Australia with a healthy lead after a dominant display on Friday at Coffs Harbour.
The Hyundai driver built up a 20.1s advantage after taking wins in five of the eight stages in what proved to be an impressive performance from the Korean manufacturer.
Team-mate Thierry Neuville climbed to second overall after taking victory on both runs through the Destination New South Wales Super Special stage, held in front of a bumper crowd on the Coffs Harbour beachfront.
Neuville shared the fastest time with M-Sport's Ott Tanak on the first run through the 1.27km stage before posting a 1:00.9s to top the times on the final pass.
The Belgian's efforts were enough to jump ahead of Citroen's Kris Meeke, who had held second spot prior to the Super Special stage.
Meeke heads into Saturday lying third albeit 0.7s shy of Neuville, while still in touch with leader Mikkelsen.
Toyota's Jari-Matti Latvala is fourth ahead of Citroen's Craig Breen and M-Sport's Ott Tanak.
New Zealand's Hayden Paddon (Hyundai) is seventh while newly crowned five-time world champion Sebastien Ogier is eighth, after a being forced to sweep the roads due to his starting position.
The Ford driver was also hit by an electronic problem that hampered gear selection.
Brendan Reeves is the top Australian runner in 13th overall, driving an AP4 specification Mazda.
The second leg of Rally Australia begins with the iconic Nambucca (48.99km) stage.
Result: Kennards Hire Rally Australia after Stage 8
| | | | | | |
| --- | --- | --- | --- | --- | --- |
| Position | # | Driver | Time | Diff Prev | Gap |
| 1. | 6 | A. MIKKELSEN | 57:51.9 | | |
| 2. | 5 | T. NEUVILLE | 58:12.0 | +20.1 | +20.1 |
| 3. | 9 | K. MEEKE | 58:12.7 | +0.7 | +20.8 |
| 4. | 10 | J. LATVALA | 58:21.8 | +9.1 | +29.9 |
| 5. | 8 | C. BREEN | 58:22.7 | +0.9 | +30.8 |
| 6. | 2 | O. TÄNAK | 58:24.9 | +2.2 | +33.0 |
| 7. | 4 | H. PADDON | 58:30.1 | +5.2 | +38.2 |
| 8. | 1 | S. OGIER | 58:39.8 | +9.7 | +47.9 |
| 9. | 7 | S. LEFEBVRE | 58:49.2 | +9.4 | +57.3 |
| 10. | 3 | E. EVANS | 59:05.7 | +16.5 | +1:13.8 |
| 11. | 11 | E. LAPPI | 1:01:19.5 | +2:13.8 | +3:27.6 |