McLaughlin: Newcastle visit valuable for title decider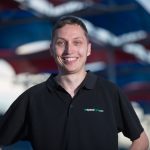 Scott McLaughlin feels a recent visit to the Newcastle street circuit will prove valuable as he bids to acquaint himself with the track ahead next weekend's title showdown.
The Shell V-Power Racing driver is among a group of Supercars drivers, including title rival Jamie Whincup, to make a trip to the newly constructed 2.6km venue this week ahead of the inaugural Coates Hire Newcastle 500.
Acquainting himself with the circuit is of utmost importance given the New Zealander is set to go head-to-head with Whincup to decide the outcome of this year's championship, with only 30 points separating the pair.
McLaughlin says he has taken plenty of photos of the track which he will use to aid his preparation prior to the biggest moment of his Supercars career to date.
Upon first reflections, the 24-year-old believes the narrow undulating track will reward those who are prepared to take risks.
"Any chance you get a chance to look at a new track is a good opportunity. Until you drive the track in anger it is hard to get an idea," McLaughlin told Speedcafe.com.
"I have taken a lot of photos and I will look back at those over the next few days to try and get acquainted with the joint.
"It is a pretty cool track and it is very different to what we are used to with the elevation, and what they have done with is great.
"It definitely is (high risk). There are parts of the track where it will really hurt if you do hit the wall.  There is not much room for error but it will reward the brave in some ways.
"I'm looking forward to getting on it."
McLaughlin admits the prospect of fighting for a maiden Supercars championship is still sinking in a week out from the decider.
"It is exciting. It probably hasn't sunk in that it is championship week but at the end of day it is cool to be in the fight and I'm just going to try and soak it as much as I can," he added.
The Coates Hire Newcastle 500 will be held from November 24-26.