Whincup working on fitness for title decider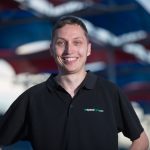 Jamie Whincup remains confident he will be fit and ready for next week's Coates Hire Newcastle 500 title decider as his recovery from a stomach bug continues.
The championship leader is focussing on readying himself physically and mentally after losing a week of training due to an illness picked up in New Zealand, that required a brief visit to a Gold Coast hospital.
Whincup is now on the mend but says he feels a bit 'underdone' in regard to his fitness.
However, he is determined to be in the best possible shape for a shot at securing a seventh crown.
The Red Bull Holden Racing Team pilot has returned to the driving seat yesterday to undertake laps in the squad's newly developed ZB Commodore at Queensland Raceway.
"I'm much better now. It was a rough three days but I checked myself into emergency and they gave me a shot of something and I have been instantly on the improve since that," Whincup told Speedcafe.com.
"I'm a little bit underdone so I'm still trying to feel fit again and fresh, which is what this week is all about, but I will be alright. I will go in prepared for Newcastle for sure.
"I'm just trying to make up for last week but sometimes when you try to make up for lost time you end up going worse.
"Last week was what it was. I lost a week at a critical time of year, but I have got my head down now to prepare as well as I can.
"I don't feel ready right now but hopefully I will at the end of this week. I'm confident that I will go in feeling good."
Whincup ventured to Newcastle on Monday to inspect the new 2.6km street circuit, which will decide this year's Supercars title.
The six-time champion holds a 30 point lead over Shell V-Power Racing's Scott McLaughlin.
"Everyone has been there (to the circuit) the last few weeks to check it out, so I'm no different," he added.
"You will have to guess on the racing line,car set up, and roll out Friday and see if you are anywhere near the mark.
"If you're not, then you are going to have fight hard all the way."
The Coates Hire Newcastle 500 will take place from November 24-26.