Successful QR track test for ZB Commodore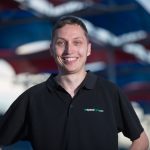 The new generation Holden Commodore Supercar has successfully completed its only Accredited Manufacturer Test day at Queensland Raceway.
Triple Eight conducted its first proper track test with the newly developed ZB Commodore as the squad continues to work on the aerodynamic package ahead of next month's official homologation test.
Jamie Whincup, Shane van Gisbergen and Craig Lowndes all attended the test, enjoying stints behind the wheel of the car.
The test arrived after three days of straight-line aero tests at Temora airfield near Canberra last week.
Triple Eight head designer and engineer for Jamie Whincup, David Cauchi, declared the day a success.
"In a whole, the day was quite successful," said Cauchi.
"We managed to get all three drivers in the car at different stages, testing different items.
"Everything went really well.
"The feedback from drivers was quite positive. We managed to play around with the balance a little bit to find a place where all the drivers were happy.
"Each car has different characteristics, that's just the nature of the shapes of production cars, so you always have to adjust each individual car.
"We just chipped away at finding a place that we thought would be a competitive package."
The ZB Commodore will now be tested alongside the current Ford Falcon FGX and Nissan Altima at Supercars' official homologation test in December.
"We still have plenty of work to do, there's still a lot of data to analyse and we need to hone down into what configuration we want to homologate come December," added Cauchi.
"There's a small list of things we want to sort out, but as a whole everything was where we wanted it."
Interest in the car has been growing with all existing Holden teams except Lucas Dumbrell Motorsport, who appear set to switch to Ford, likely to upgrade to the package for next season.