Paddon anticipating part-time 2018 WRC tilt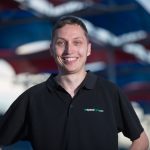 Hayden Paddon believes a strong result at Kennards Hire Rally Australia will not be enough to secure a full-time drive at Hyundai in the World Rally Championship next season.
The New Zealander heads into the WRC season finale facing the prospect of a part-time 2018 campaign, with the fine details of next year's plans at Hyundai yet to be confirmed.
Hyundai will enter next season with four drivers on its books after adding Norwegian Andreas Mikkelsen to its stable on a two-year deal, joining Thierry Neuville, Dani Sordo and Paddon.
The squad is set to field three cars at all events next year with a four car effort expected for selected rounds.
It has been reported that Paddon and Sordo are likely to share a third car next season, although the operation is yet to confirm this arrangement.
After a difficult season that has seen Paddon benched in Spain for Mikkelsen, the Kiwi believes Hyundai's 2018 decision won't be affected by results in Australia.
"Well unfortunately they've already signed the fourth driver," Paddon told Speedcafe.com.
"So from that respect it's not going to change. It's difficult to really say how things are going to work moving forward.
"There's certainly nothing confirmed from our side at the moment.
"All I know is our management are speaking with Hyundai management.
"It's clear that they've got four contracted drivers and all four contracts are very much the same.
"How it works moving forward I'm not 100 percent sure yet. It certainly sounds like it could be the possibility of sharing a car."
After finishing fourth in the standings last year, Paddon has endured a challenging season, which has left him 10th in the championship heading into Australia.
The 30-year-old has finished in the top five twice in 12 events, with his best result a second place in Poland.
Given his form this season he understands that a difficult decision has to be made by the squad, but remains confident in his own ability to deliver results.
"I understand the harsh realities of professional sport," he added.
"At the end of the day we haven't the results on the board this year, and I'm the first person to admit that.
"But at the same time we've had an incredibly lot of bad luck this year.
"A lot of things have been out of our control and while from the outside it looks really bad and it looks a lot of it's been self-inflicted, there's actually been a lot of things that have been out of our control.
"To be punished for one bad year of many, many years of rallying that I've been doing, it's not such a nice feeling.
"But it's just the way it is sometimes.
"It's not a matter about how we bounce back from this this year and whatever opportunities moving forward, it's how we make the most of those opportunities to build back up.
"At the end of the day I fully believe in what we can achieve. I still back myself, so that's where we've just got to get the sights on."
While his full-time future remains in doubt, Paddon is however looking forward to ending the season at an event he relishes.
"It's certainly easier to come to a rally I love with a more relaxed approach, which I think you need to be able to enjoy it," he said.
"Some of the stages here are some of my favourites, especially the Nambucca stage and it's one of my highlight stages of the year. I just love that piece of road.
"I think if we can just relax and enjoy the really this weekend and forget about all the other issues and just do what I love doing then a good result is possible."
Crews completed shakedown this morning with the rally proper beginning on Friday.