Coffs Coast to stay as Rally Australia's home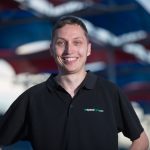 Rally Australia organisers are adamant Coffs Harbour should remain as the event's base for the future despite calls from teams to relocate nearer to Sydney.
The Coffs Coast region is New South Wales has hosted the World Rally Championship's visit to Australia annually since 2013 and is to remain on the calendar for next year, following a fresh one-year extension with the promoter.
While Rally Australia's origins are in Perth, Western Australia, which hosted the rally until 2006, the event has been held in rural New South Wales ever since.
Rally Australia is entering its sixth year at Coffs Harbour with management continuing to face calls from some teams to move the event closer to a metropolis such as Sydney.
However, support at local government level for the rally to stay at Coffs Harbour is strong having announced a new three-year funding arrangement, centred around local tourism.
Meanwhile, speaking on the eve of this year's event, Rally Australia chairman Ben Rainsford has ruled out the possibility of a move away from the Coffs Coast region.
"We'd like it to be in Coffs It's got a good feel and it's embraced by all of the community," said Rainsford.
"Regions are a big part of the government's agenda, and certainly having tourism attractions in the regions is an ideal thing. And rally is a good fit for that.
"Moving it closer to Sydney brings a whole heap of challenges we probably wouldn't want.
"Look at what's happening with (Supercars) in Newcastle and the residents there.
"All they're doing is talking down things, rather than talking about the positive things associated with motorsport.
"We don't want to do that. We like being here because we can have a sustainable position with the environment, and we don't have residents issues.
"The closer we go to Sydney, we'd have to rebuild all that. We'd get into more populated areas where the density precludes it.
"You could do short bursts, and we've often looked at doing a Super Special down there, but if you tried doing a compliant Special Stage rally there you'd do your nuts in."
Hyundai's Thierry Neuville was fastest on today's shakedown ahead of the first leg of special stages which begin on Friday.