Prodrive team-mates move on after NZ clash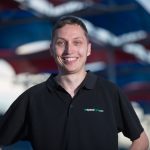 Prodrive has addressed the clash between team-mates at Pukekohe with a repeat of the situation in the future unlikely, according to Mark Winterbottom.
Winterbottom was upset by a collision instigated by Cameron Waters on the opening lap of Race 24 in New Zealand.
Waters made contact with Winterbottom while attempting to overtake at Turn 8, which then resulted in further contact with Chaz Mostert that spun the Supercheap Auto driver out of third position.
The friendly fire moment proved costly for the team as Winterbottom and Mostert witnessed a chance to challenge for a podium finish evaporate, while Waters finished third.
While the clash was deemed a racing incident by stewards, the 2015 Supercars champion says the situation has been discussed by the team internally and has since been resolved.
The 36-year-old confirmed that both he and Waters have moved on from the incident with their relationship intact.
"We (myself and Cameron) are alright. You have to work together and there is no use headbutting each other," Winterbottom told Speedcafe.com.
"We addressed it really well at the workshop and you move on.
"If that situation happens again I don't think you will see the same result and that is all you want to know as a driver.
"We are racing together against everyone else.
"We have addressed it and everyone shook hands. We (myself an Cameron) went to the Supercross on Saturday and had a couple beers together."
Prodrive boss Tim Edwards says his drivers will continue to race each other but will do so with respect for one and other.
"It was one of those things and any driver will be upset when things like that happen," Edwards told Speedcafe.com.
"We did what we always do after a race which was to debrief the weekend and went through our plan for Newcastle.
"We don't have rules of engagement but what we do have is a healthy respect between our drivers, and that is the way we operate."
Winterbottom and Waters were in action yesterday when Prodrive undertook a test day at Winton ahead of next weekend's Coates Hire Newcastle 500 season finale.
Meanwhile, testing continues today with Triple Eight set to conduct the first proper track test of its newly developed ZB Commodore at Queensland Raceway.
The car completed straight-line aero testing runs at Temora airfield near Canberra last week, ahead of Supercars' official homologation tests next month.