Winterbottom: I've been hanging out for this test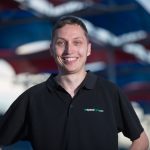 Mark Winterbottom has been left encouraged by gains made from what he describes as his first proper test day of the year as the season draws to a close.
The Prodrive Racing Australia driver enjoyed a trouble free test at Winton today as the 2015 series champion continues to search for improvements on his #5 Ford Falcon FGX.
Winterbottom says brake and engine issues have curtailed opportunities to develop his car at previous test days, while wet weather forced the squad to abandon test plans earlier this year.
Facing the prospect of a winless season for the first time 2005, the 36-year-old has been desperate for a chance to trial set-ups and feels the day was productive.
Winterbottom displayed an improvement in form at Pukekohe, which yielded a second place in Race 23, and only his third podium of the year, with just the Coates Hire Newcastle 500 remaining.
"It is funny but that was really my first test for the whole year," Winterbottom, who is eighth in the standings, told Speedcafe.com.
"We had engine issues at the last one and brake issues at the first one.
"We had a pretty good day and we found some gains in an area that I have been looking for.
"With gains there are losses as well, but I think we have found more gains than losses.
"I have been hanging out for that test day all year because a lot of the stuff we tried today we haven't been able to get in our car for race meetings because it is kind of risky.
"I had a really good day and was pretty happy and it was definitely one of the best test days I've had all year.
"It was more set-ups to be honest but there are always bits that you are trying to evolve. It is not like you have new bits but you are trying to make the most of the parts you have.
"In New Zealand we were quite good but struggled on corner exits but today we were really good on exits.
"We have hit an area we have been trying to hit so hopefully it translates to speed at Newcastle."
Winterbottom shared the track with team-mate Cameron Waters, while fellow Prodrive drivers Chaz Mostert and Jason Bright were absent from the test.
However, Preston Hire Racing's Lee Holdsworth joined Prodrive at Winton for what was the team's first test day since the pre-season hit out at Sydney Motorsport Park in February.
Like Prodrive, Team 18's efforts to test at Winton prior to the Pirtek Enduro Cup were washed out.
"We did everything we needed to do," Holdsworth told Speedcafe.com.
"It is just so hard at the race meetings to justify the changes you make but today we were able to get a good read on these things.
"We have got a few things that we are trying, to find a few more gains.
"We are feeling pretty confident that we have made a step forward and a move in the right direction.
"It is obviously late in the year so the things we have done today are more for next year."
Nissan Motorsport was also present to conduct an evaluation day for inaugural Australian Formula 4 champion Jordan Lloyd.
The Toowoomba young gun, who finished fourth in the USF2000 Championship in America last year, jumped behind the wheel of Rick Kelly's Nissan Altima.