Rogers: Golding the favourite to replace Moffat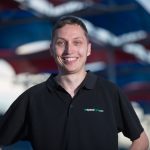 Garry Rogers Motorsport intends to secure its 2018 Supercars driver line-up within the next three weeks with James Golding the favourite to replace James Moffat.
GRM boss Garry Rogers has moved to confirm that Moffat will vacate the #34 full-time seat although a deal for young gun Golding to take over the drive is yet to be completed.
Moffat revealed to Speedcafe.com at Pukekohe that he will lose his GRM drive at the end of the year and is unlikely to remain full-time next year.
It has long been expected that Golding would earn a promotion to the main game with the Melbourne team in 2018, having impressed in the Dunlop Super2 Series last season.
Golding has been without a full-time drive this year but has starred during Supercars wildcard outings at Winton and Queensland Raceway, and in the Pirtek Enduro Cup alongside GRM regular Garth Tander.
Rogers admits Golding is the favourite to pilot the #34 next season although discussions between both parties are ongoing.
"Our driver line up next year will obviously be Tander, but Moffat will not be driving with us next year in the main series at this stage," Rogers told Speedcafe.com.
"Things could change in the endurance period, but at this stage it is Tander and one other party.
"He (James Golding) is the favourite. James and myself need to have good personal and business discussion about the needs and wants for both parties.
"We will do that in the short term as he is the forerunning candidate.
"This season he hasn't had a full-time drive due to situations internally at our place, but when he was driving full-time in the Dunlop Series he acquitted himself very well.
"If we go back to his Formula Ford activities he was always very competitive there and he has certainly got good form.
"We should have that (confirmation of our line-up) all together within three weeks."
The long standing team boss has not ruled out a return for Moffat as a co-driver next year.
"We would consider him to be a valuable co-driver," Rogers added.
"I think he has shown more than a little bit of promise, he has had some extremely solid performances and he has also had some ordinary ones but that happens from time to time.
"In general you would have to say his performances have been very solid."
The squad is expected to field two Dunlop Super2 Series entries next year alongside two brand new ZB Commodores for its main game attack.