Whincup: Newcastle will be a massive challenge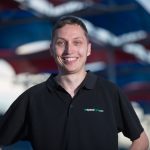 Jamie Whincup expects the Newcastle street circuit to present a massive challenge for the entire field ahead of next week's Coates Hire Newcastle 500 finale.
The championship leader inspected the newly constructed 12 turn, 2.6km circuit for the first time today ahead of the inaugural title decider held from November 24-26.
Packed with elevation changes, fast sweeping corners, 90 degree turns and a hairpin, Whincup believes the circuit will be 'a nightmare' to master.
The six-time champion heads to Newcastle with a slender 30 point lead over Shell V-Power Racing's Scott McLaughlin with 300 points to play for.
"The track looks fantastic. There's been so much consideration for the drivers on making this place really good, not only as an event but a good race track with plenty of passing opportunities," said Whincup at a media call.
"The elevation has surprised me, that run up into Turn 2, you gain a lot of altitude and then hook back down the other side.
"It's going to be a nightmare to get right, believe it or not, it's going to be really difficult to work out what the right lines are and how to set the car up, but that's all part of the fun I guess.
"There are plenty of spots on the circuit that could trip people up, without doubt.
"There are a lot of braking zones that are turning and with our cars, braking while turning is quite difficult.
"And then the terrain. In braking zones that drop away, it's going to be really hard work, the drivers will have to be on their game the whole way around for 250km.
"It's going to be a massive challenge for everyone."
Whincup's visit arrives just days after his Red Bull Holden Racing Team manager Mark Dutton travelled to the venue to inspect the facilities.
VIDEO: Whincup's impressions of the Newcastle circuit