Vettel victorious as Hamilton recovers to fourth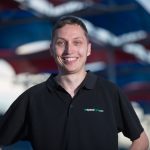 Sebastian Vettel produced a faultless drive to overcome Mercedes' Valtteri Bottas to win the Brazilian Grand Prix.
A brave move at the start on polesitter Bottas proved crucial as the Ferrari driver took the lead which he held for the majority of the 71 lap contest at Interlagos.
Vettel faced a challenge from Bottas when the Finn attempted an undercut at the first round of stops.
However, Vettel managed to fend off the Mercedes driver before going on to take the chequered flag.
Ferrari team-mate Kimi Raikkonen completed the podium ahead of a charging Lewis Hamilton, who scythed his way through the field after starting from the pitlane, following an engine change after a crash in qualifying.
Hamilton briefly held the lead having elected for a long opening stint, before rejoining the race in fifth after his one and only stop.
The newly crowned four-time world champion did however benefit from a crazy opening lap which saw the deployment of the Safety Car.
McLaren's Stoffel Vandoorne, Kevin Magnussen (Haas F1) and Red Bull's Daniel Ricciardo were involved in a coming together at the Senna esses.
Magnussen made contact with Vandoorne who then pitched Ricciardo into a spin, which dropped the Australian to the rear of the pack. The incident was set to be investigated after the race.
Vandoorne and Magnussen were eliminated on the spot with the pair joined by Force India's Esteban Ocon when he and Romain Grosjean (Haas F1) collided at Turn 6.
Grosjean managed to escape the incident but was handed a 10 second penalty by the stewards.
After avoiding significant damage, Ricciardo, who started from 14th due to an engine penalty, delivered a series of impressive overtaking moves to climb from the back of the grid to sixth.
Team-mate Max Verstappen endured a relatively lonely race to fifth.
Local hero Felipe Massa managed to hold off Fernando Alonso (McLaren) and Sergio Perez (Force India) to finish seventh in his final Brazilian Grand Prix before retiring from F1 at the end of the year.
Meanwhile, Renault's Nico Hulkenberg completed the top 10 for Renault.
New Zealand's Brendon Hartley joined Vandoorne, Magnussen and Ocon on the list of retirements when his Toro Rosso suffered a suspected mechanical fault on lap 42.
The championship heads to Abu Dhabi for the season finale from November 24-26.
Result: Formula 1 Brazilian Grand Prix
| Position | Driver | Car | Gap |
| --- | --- | --- | --- |
| 1 | Sebastian Vettel | Ferrari | 71 Laps |
| 2 | Valtteri Bottas | Mercedes | 2.762s |
| 3 | Kimi Raikkonen | Ferrari | 4.600s |
| 4 | Lewis Hamilton | Mercedes | 5.468s |
| 5 | Max Verstappen | Red Bull/Renault | 32.940s |
| 6 | Daniel Ricciardo | Red Bull/Renault | 48.691s |
| 7 | Felipe Massa | Williams/Mercedes | 1m08.882s |
| 8 | Fernando Alonso | McLaren/Honda | 1m09.363s |
| 9 | Sergio Perez | Force India/Mercedes | 1m09.500s |
| 10 | Nico Hulkenberg | Renault | 1 Lap |
| 11 | Carlos Sainz | Renault | 1 Lap |
| 12 | Pierre Gasly | Toro Rosso/Renault | 1 Lap |
| 13 | Marcus Ericsson | Sauber/Ferrari | 1 Lap |
| 14 | Pascal Wehrlein | Sauber/Ferrari | 1 Lap |
| 15 | Romain Grosjean | Haas/Ferrari | 2 Laps |
| 16 | Lance Stroll | Williams/Mercedes | 2 Laps |
| DNF | Brendon Hartley | Toro Rosso/Renault | Retirement |
| DNF | Stoffel Vandoorne | McLaren/Honda | Collision |
| DNF | Kevin Magnussen | Haas/Ferrari | Collision |
| DNF | Esteban Ocon | Force India/Mercedes | Collision |
Championship Standings
| Position | Driver | Points |
| --- | --- | --- |
| 1 | Lewis Hamilton | 345 |
| 2 | Sebastian Vettel | 302 |
| 3 | Valtteri Bottas | 280 |
| 4 | Daniel Ricciardo | 200 |
| 5 | Kimi Raikkonen | 193 |
| 6 | Max Verstappen | 158 |
| 7 | Sergio Perez | 94 |
| 8 | Esteban Ocon | 83 |
| 9 | Carlos Sainz | 54 |
| 10 | Felipe Massa | 42 |
| 11 | Lance Stroll | 40 |
| 12 | Nico Hulkenberg | 35 |
| 13 | Romain Grosjean | 28 |
| 14 | Kevin Magnussen | 19 |
| 15 | Fernando Alonso | 15 |
| 16 | Stoffel Vandoorne | 13 |
| 17 | Jolyon Palmer | 8 |
| 18 | Pascal Wehrlein | 5 |
| 19 | Daniil Kvyat | 5 |
| 20 | Marcus Ericsson | 0 |
| 21 | Pierre Gasly | 0 |
| 22 | Antonio Giovinazzi | 0 |
| 23 | Brendon Hartley | 0 |