Ricciardo bounces back from opening lap drama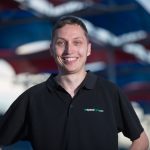 A series of stunning overtaking moves helped Daniel Ricciardo salvage an unlikely sixth place finish after being turned around on the opening lap of the Brazilian Grand Prix.
The Red Bull driver was the innocent victim of Turn 2 collision involving McLaren's Stoffel Vandoorne and Kevin Magnussen (Haas F1) that saw the Australian facing the wrong direction.
Ricciardo, who already faced a tall order after engine penalty saw him start from 14th position, was pitched into a spin when Magnussen made contact with Vandoorne, who then as a result hit the Red Bull driver on the outside of the corner.
After avoiding series damage, Ricciardo recovered to the pits in 17th position under the Safety Car.
The five-time grand prix winner then went on to execute a string of impressive passes to climb inside the top 10, before going on to finish sixth, one place behind team-mate Max Verstappen.
Ricciardo admitted he was content with his recovery drive having been lucky to avoid damage to his car.
"I saw it was quite bunched up at Turn 2 and I saw there was some room around the outside so I went (for it)," said Ricciardo.
"There is always a risk around the outside, but you can't be naive, but at the same time the starts are the best opportunity to make up a handful of spots.
"I don't regret trying it and I don't really know what happened but I assume the cars drifted up into me. I tried to leave as much room as I could but we got hit.
"Fortunately we didn't have damage, we just damaged the tyre, and then we were able to come through the field.
"I got through the cars as quickly as I could, so I'm pretty happy with the race.
"The last 15 laps I was by myself and just trying to manage the tyres to get through to the end. The team told me Max had struggled a bit towards the end of his first stint.
"As my sixth place was pretty secure the team told me to ease off a bit."
Ricciardo admitted the team were forced to turn down his Renault engine due to reliability concerns.
"At the start we run them as hard as we can, but once we are settled we saved it a bit as this one has to get me through to Abu Dhabi," he added.
"We have to be a bit safe, I don't now the situation with the others. It is enough to justify some of our pace (deficit)."
Ricciardo remains fourth in the championship standings but his margin over fifth-placed Kimi Raikkonen has been reduced to seven points ahead of the Abu Dhabi season finale (November 24-26).