POLL: Has CAMS fixed the Superlicence system?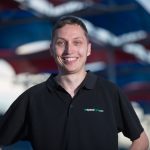 After plenty of debate following its launch, the Confederation of Australian Motor Sport (CAMS) has made changes to the controversial Superlicence system.
The mandatory Superlicence was introduced this season to ensure a certain driving standard is met by competitors in the Virgin Australia Supercars Championship.
To qualify for a Superlicence applicants must be at least 17-years-old and either hold an FIA Gold driver status, have competed in at least three Supercars rounds over a five-year period or meet CAMS' points criteria.
Drivers must accrue a minimum of 13 points which is calculated from championship finishes in national categories over a five-year period.
While this remains in place, CAMS has made it easier for drivers to obtain a Superlicence with two key changes to the qualifying criteria.
The top six drivers in the Dunlop Super2 Series standings at the end of the year will automatically qualify for a Superlicence.
Previously, the Dunlop Super2 Series winner would receive 12 points, one point shy of the licence criteria.
The change means drivers can obtain a licence having completed only one season in the category.
As a result, Anton De Pasquale, who sits fourth in the current standings, will no longer need a special dispensation to take up his driver at Erebus Motorsport next year.
Additionally, if existing Superlicence holders finish in the top six of the Super2 Series, Superlicence eligibility will extend as far as eighth position in the series.
Alterations have also been made to the points allocation for the third-tier V8 Touring Car Series.
The series winner will now receive seven Superlicence points instead of five, second to fifth will each receive an extra point, and sixth position will now also be awarded a single point.
Amendments to the procedure have arrive after much conjecture, with Supercars CEO James Warburton leading call for the system to be reviewed earlier this year.
It also follows a decision by CAMS to award former Lucas Dumbrell Motorsport driver Alex Rullo a special dispensation to the then 16-year-old, who failed to meet most of the criteria.
The body then rejected a dispensation for Matt Chahda, who met more of the criteria than Rullo, when he attempted to take up a main game drive at Lucas Dumbrell Motorsport for this season.
Has CAMS fixed the Superlicence system?
Cast your vote in this week's Pirtek Poll.